Recently there are many clients looking for a digital infrared thermometer, the most frequently asked question is what are the features and instructions for iStartek digital infrared thermometer? Let's show you in detail about iStartek digital infrared thermometer in this article.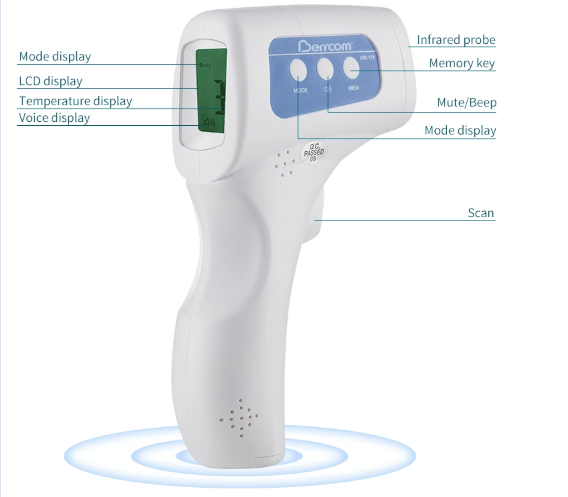 Firstly let's check out digital infrared thermometer product details, it has HD LCD Display, Mode display, Temperature display, Voice display, Infrared Probe, Memory Key, Mute/Beep, Mode display, Scan Button, you can see digital infrared thermometer details in below photo: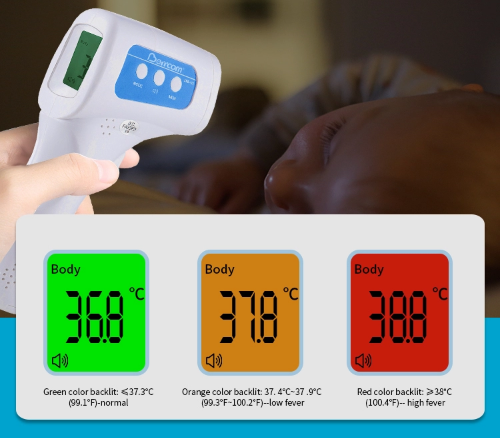 iStartek digital infrared thermometer is a non-contact digital infrared thermometer, which can avoid cross-infection, suitable for the whole family to use, also it has a High-end probe sensor, with advanced temperature compensation algorithm, more accurate and stable. iStartek digital infrared thermometer supports 10 features, we have listed below, you can check one by one.
1.Measuring time: 1 second
No more waiting and don't need to worry about the naughty baby.
2. One key measurement
3. Forehead measurement, no skin contact
4. Large LCD screen, 3 color backlights
Green color backlights: ≤37.3°C (99.1°F)–normal
Orange color backlights: 37. 4°C~37 .9°C (99.3°F~100.2°F)–low fever
Red color backlights: ≥38°C (100.4°F)– high fever
5. The alarm sounds if exceeding the preset temperature
6. Three Modes: Surface, Human Body, or Room
7. Units switch: ºF or ºC selection
8. Auto- Shutoff function support
9. 32 sets of data storage
Automatic data recording for easy observation of body temperature changes.
10. Long Life: 100,000 times
Now let's learn how to use iStartek infrared thermometer, below are the steps:
Install 2AA batteries to the contactless digital infrared thermometer

For the first time use after installing batteries, wait 10-15 minutes for the device to warm up and adjust to the room temperature.

Press on/scan button, place 3-5cm (1.5-2in) away from the forehead, aim lens toward the forehead.
Make sure the measurement mode is "BODY", press the temperature gun digital infrared thermometer's ON/SCAN button, and the temperature will be displayed instantly.
Before taking an individual's temperature, make sure any hair, dirt, or dust is removed from the forehead and forehead is dry.
Above are the features and instructions for our digital infrared thermometer, if you have any query about it, or if you are looking for epidemic prevention products, please contact us freely(Email: [email protected]), because iStartek are supplying various of qualified epidemic prevention products with related certificates, we are ready to support you, let's go through the difficulties together.