A car locator is a positioning device normally on a vehicle, truck, or motor that uses the Global Positioning System (GPS) to track its movement to monitor its location.
What is a 4G LTE GPS car locator? It's based on the newest fleet tracking technology available for purchase by fleet owners. This tracking technology provides you with 4G LTE connectivity that is easy to access from anywhere, as long as you have an internet browser connection.
The car locator is a 4G based GPS vehicle locator. With built-in high-precision GPS positioning module reports the vehicle location and vehicle status to the vehicle tracking service platform through the 4G network for real-time vehicle monitoring, anti-theft, and dispatch management.
This model has a built-in 128Mb Flash memory. Save historical positioning data when entering GSM blind area and resend the data to the tracking platform if receive the GSM signal. The locator contains an RS232 port for RFID to perform identity recognition and vehicle control for vehicle drivers, or connect to an OBD reader to read car ECU data and other RS232 peripherals to achieve corresponding functions.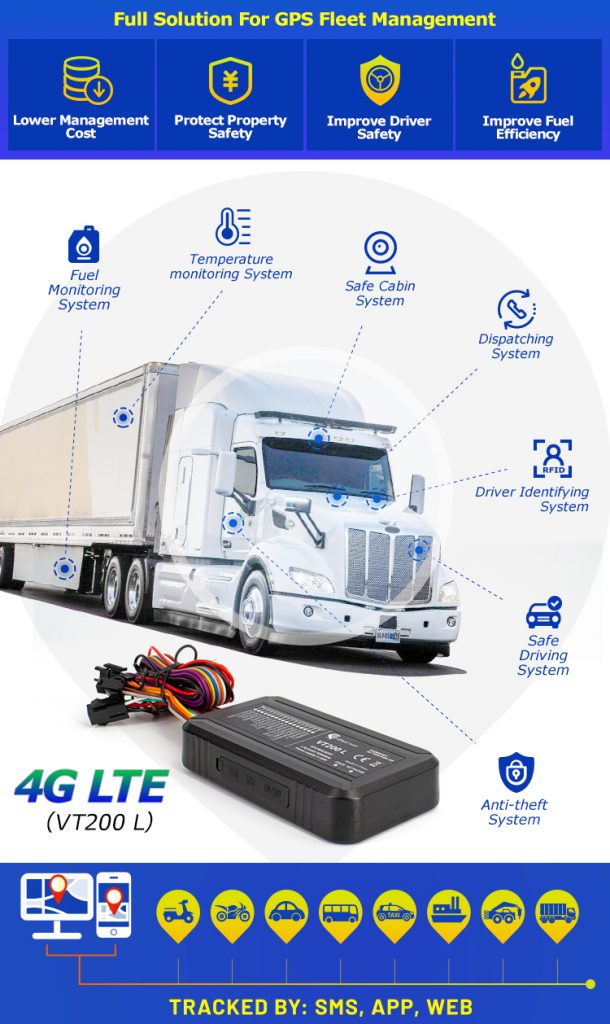 Nowadays, people are no longer satisfied with simple tracking locators. Because more functions are required in different scenes. The car locator is designed with 3 inputs(Can be configured as high and low-level trigger mode, or AD mode),1 Analog input(fuel sensor),2 Outputs, 1-wire(ibutton, temp sensor), 1 5V output wire,1 Micro USB,1 Speaker,1 Microphone. It can be competent for customer's demand.
The car has become the most common means of transportation in modern society. With the widespread use of vehicles, the auto loan industry also runs in a fast-growing way. Therefore, for auto loan companies, it is necessary to ensure that the safety of the loaned out cars and the credit risks of customers are within control, then the car locator is an indispensable factor to this industry. With the development of the Internet, 4G car locators have gradually become the preferred choice for auto loan companies.
The advantages of Car locator:
Risk and behavior monitoring and alarm;
The 4G car locator can real-time collect the driving data of the vehicle and send to the platform without delay. Enterprise can set electronic fences based on the returned data, effectively prejudging the danger, and avoiding the risk of the vehicle's second mortgage.
Behavior prejudge and risk control;
Monitor the specific location of the car at any time. If you find the loaned vehicle frequently appears in second-hand car trading market, repair shop, lending institution, mortgage place and other sensitive location, you can immediately intervene the scene.
4G car locator has become the most effective technical means for car loan companies. And it has also multiple functions such as real-time monitoring, multiple alarms, danger warnings, and data statistics to keep your asset safe!