VT200 L is our latest Vehicle tracking GPS, which is a multiple functions device, you can see part of its supported function in the below picture. After the client receives samples, some of them may are curious about how to set VT200 L car tracking GPS online, don't worry, this article will show you steps one by one.
First of all, we need to insert a Nano Sim Card on VT200 L car tracking GPS, The sim card we use should match with part of its supported bands, there are 3 different versions of VT200 L car tracking GPS, you can check as below: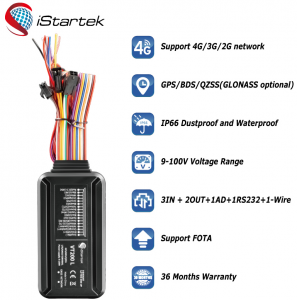 VT200-LCN
LTE-FDD: B1/B3/B5/B8
LTE-TDD: B34/B38/B39/B40/B41
GSM: 900/1800MHz
 
VT200-LEU
LTE-FDD: B1/B3/B5/B7/B8/B20/B28
LTE-TDD: B38/B40/B41
GSM: 850/900/1800/1900MHz
 
VT200-LAU
LTE-FDD: B1/B2/B3/B4/B5/B7/B8/B28/B66
LTE-TDD: B40
WCDMA:B1/B2/B4/B5/B8
GSM: 850/900/1800/1900MHz
After inserting sim card on the device, turn it on then put VT200 L GPS tracking in open sky place, add it to IMEI to the platform, if you are using the iStartek tracking platform, you can contact with iStartek Team to create a platform admin account for you, you can tell us what username and password you want to use, then we set up an account for you accordingly. If you want to use VT200 L tracking GPS in your own platform, then you can add VT200 L tracking GPS IMEI to your platform.
Now we can go to check VT200 L car GPS tracking both LEDs status, if Blue and green led are on for 0.1 seconds, off for 2.9 seconds, that means VT200 L Vehicle tracking GPS connected with a platform with valid GPS position, so we can check on the platform it's online already. This is because VT200 L car tracking GPS has preset with related parameters, normally it can online on the platform without further configuration.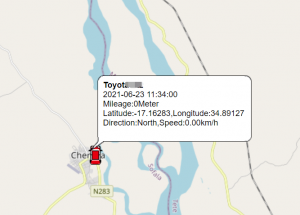 If VT200 Vehicle GPS tracking device not online it's may because the APN information not matched with the preset information, so we need to set it by SMS command, SMS Command format is:
****,109,APN,APN_User_Name,APN_Password
****default SMS password is 0000, if there is no APN username and APN password, just leave it blank.
For example, if we are using Chile Movistar on it, APN information as below:
APN: wap.tmovil.cl
APN name: wap
APN Password: wap
So we can send this SMS command to set APN: 0000,wap.tmovil.cl,wap,wap
Once sending the above SMS command we will get an SMS reply from the VT200 L Vehicle GPS tracker, then a few minutes later we can check the device's online status on the tracking platform.
As you can see VT200 L Vehicle tracking GPS is very easy to use, if you have another query welcome to contact us freely.