iStartek took part in IFISCE New Delhi 19th-21th, it's a great honor for us to meet a lot of people at the exhibition. Some of them are maybe looking for AIS 140 products.
"South Asia's Largest Security & Fire Safety Expo & Conference"
IFSEC India is South Asia's largest security, civil protection, and fire safety show. The show brings together internationally renowned exhibitors, consultants, business experts, and key government officials under one common platform. The key trade markets and the growing end-user community including key government attendees attending to review the latest products and innovations, build business partnerships, conduct business and make purchases.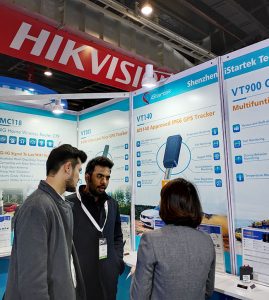 We launched VT140 in the exhibition which is specialized design for the India market. The hardware and function of VT140 all strictly fellow the Indian government requirement of AIS 140 for the India market.
Specification of VT140, please check below:
AIS 140 Waterproof Vehicle Tracking
*Remote cut-off(Petrol/Power)
-Compel the vehicle to stop by breaking off the fuel connection
*GPS+IRNSS+GLONASS+BD2 Position
-According to the location to be pinpointed in real time or periodically
*9-100V voltage range
-The wide operating voltage applied to all types of vehicles
*4IN/2OUT+2AD+2rs232
-Monitor and control external application via input/outputs
*IP66 waterproof Level
-With an exquisite and waterproof design, there is no worry when car is driving on rainy day.
*Tracked by: SMS, APP, Web
-Track devise in real-time by web-based tracking software, as well as IOS and android app
*Geo-fence
-You can draw a circle on the platform, if the car drive over that circle, the device will send the warning to the server automatically
*Low Power Consumption
-Intelligent sleep and wake-up mechanism can reduce the average power consumption of the entire system.
AIS 140 VT140 can be applied for fleet Management, Cargo Logistic, Car, Motorcycle
Standard Accessories: I/O Cable
Optional Accessories: Relay, USB Cable, RFID/Magnetic Card Reader, Capacitive Fuel sensor and Calibrator,i-button, Pin Switch, Temperature Sensor, L Shape 3G Antenna, Buzzer, Alcohol Sensor
VT140 could provide you the whole solution of car fleet management, cargo Logistic, government projects with multiple wires. We also provide flexible ODM/OEM service for our clients.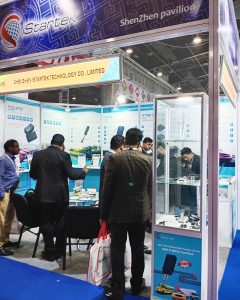 Lastly, many thanks for you who came to our booth and also share many India market information for us. Most importantly, we feel the hospitality of India people. The purpose of our India trip is to find the local dealer/distributor, to see the India market for GPS tracker. To us we have 5-year hardware experience in GPS tracker, to you, you have great sales experience in India. If we cooperation together, surly we could provide more good quality items at a low cost to India market.
We have to draw a distributor solution for our client. If you have any interest in AIS 140 products, don't be hesitated to contact us.