OEM GSM Sim Card Fuel Vehicle Cheapest Small Motor Car GPS Tracking Device With Anti Jamer For Objects. VT600 is a quality GPRS GPS Tracking Device which is quite popular on the market, public transportation management, school bus management, taxi operation management etc. which meet most of the client's market request, such as real-time tracking, SOS Alarm, engine cut, acc detection, fuel monitoring, temperature monitoring etc. 
SMS and GPRS TCP/UDP Communication
AGPS ( with GSM/WCDMA/WCDMA Base Station ID)
Track on Demand
Show Location Directly on Mobile Phone
Track by Time Interval/Distance
Anti-Jammer (optional)
GSM/WCDMA Blind Area Memory
Inbuilt Motion Sensor for Power Saving
Movement Alarm
Geo-fencing Control
Low Battery Alarm
Speeding Alarm
GPS Blind Area Alarm (in/out)
Power-cut Alarm
SOS Alarm
Engine Cut (Stop Engine)
I/O: 3 digital inputs, 1 output and 1 analog input
OTA (upgrade firmware over the air)
GPS Tracking Device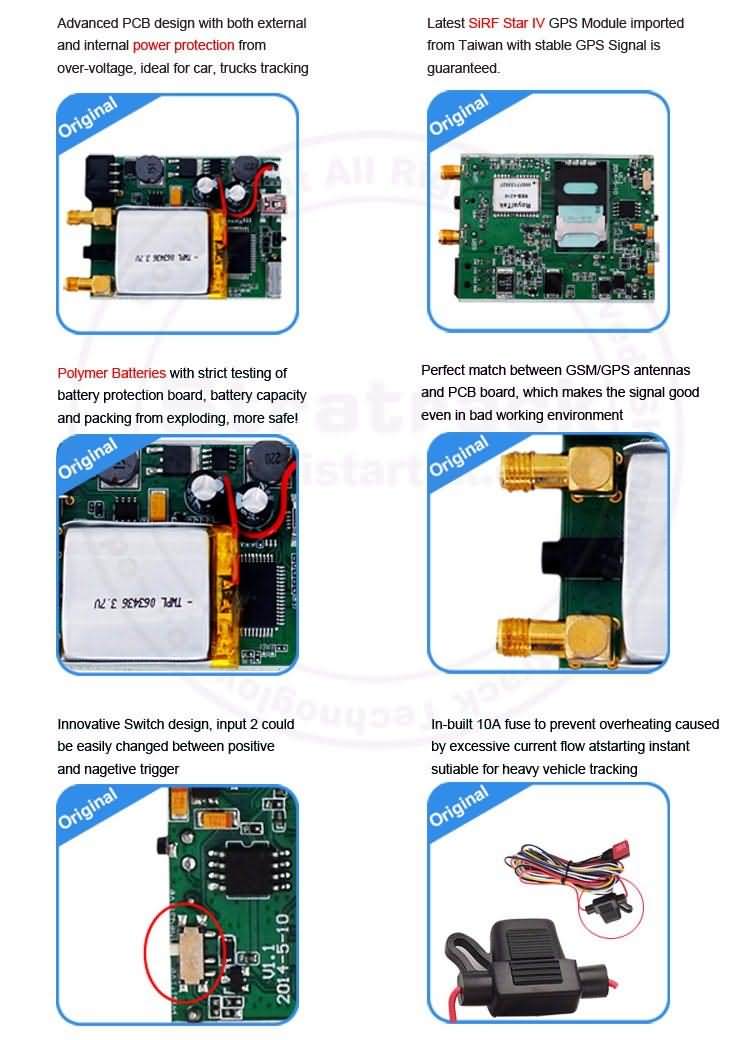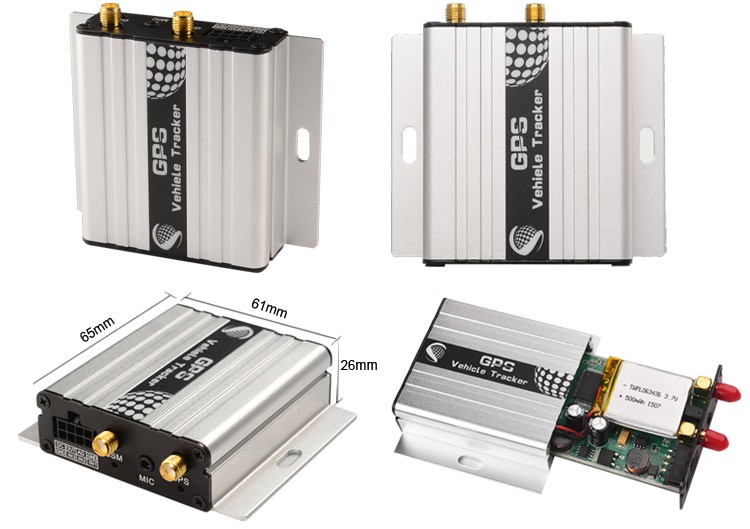 Accessory Picture
Function
Accessory Picture
Function
iButton

1. Collect driver ID

2. Control Vehicle Engine

3. Monitor driver behavior

Capacitive Fuel Sensor

1. Fuel Consumption Monitoring

2. High accuracy, 1mm error

PinSwitch

1. Connect to vehicle hood to detect open/close status

Buzzer:

1. Speeding Alarm

2. Unauthorized card swiping alarm

L Shape Antenna

Easy for installation

Relay:

Remotely engine cut
 WHAT CLIENT COMMENT AFTER TESTING?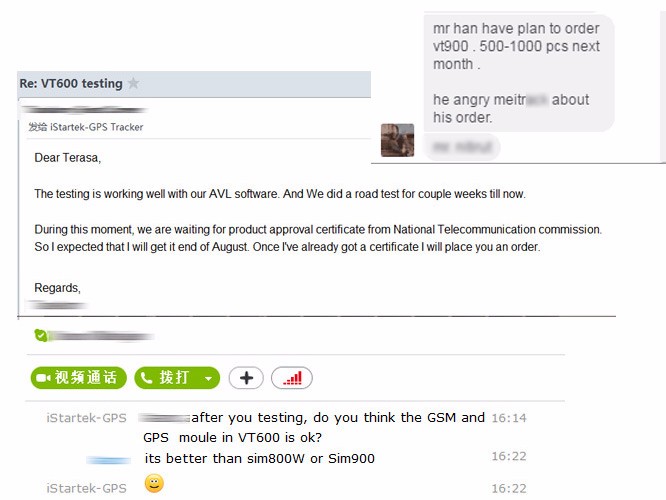 Case 1: customized VT600 to meet Chile bus group's request and installed more than 1000pcs already.
Case 2:  As per Indian's Telecom Provider's request, we customized VT600 to track GSM station's Backup batteries, for anti-theft purpose.

Startrack Technology Co., Ltd is a quality manufacturer with 9 years of industry experience.
We dedicated to providing customized service and integrated solutions for:
GPS Tracking Solution-–GPS Vehicle Tracker, GPS Personal Tracker, GPS Pet Tracker, and GPS Tracking System
M2M— Smart PDA with RFID Reader, Scanner
ICT—3G.4G Wireless Router/Modem
With the comprehensive product ranges, we are confident to support our partner to increase market shares quickly.
COMPANY HISTORY
2009 Entered Wireless Communication Business
2010 Developed the first GPRS Tracker
2012 Start Cooperation with DT Mobile
2014 Hotsale 2G GPS Tracker VT600 got distributors in several countries 
2016 Launch 3G GPS Tracker with Magnetic Card Reader, got NBTC/DLT Certificate
2017 3G Multi-functional GPS Tracker and more M2M Devices Coming
| | |
| --- | --- |
| Main Capacity | Total Revenue (%) |
| Southeast Asia | 50.00% |
| Mid East | 20.00% |
| South America | 10.00% |
| Africa | 5.00% |
| North America | 5.00% |
| Western Europe | 3.00% |
| Southern Europe | 2.00% |
| Eastern Asia | 2.00% |
| South Asia | 1.00% |
| Eastern Europe | 1.00% |
| Central America | 1.00% |
Certified Picture

Certification Name

Certified By

Certificate No.

Product Name & Model No.

Available Date — Expired Date

CCC

TCT

TCT130529008W

CE certificate for GPS Vehicle Tracker: VT310, VT500, VT100, VT202, VT206, VT600, VT800, VT900 And Other Model

2013/06/05 — 2020/12/04

CE

TCT

TCT130529009W

CE Certificate for personal tracker: PT301, PT302, PT90, PT80, PT50 

And Other Model

2013/06/05 — 2020/02/01

CE

TCT

TCT1309263965E-1

CE Certificate for power bank: PB-V10,PB-V8,PB-V9,PB-E5,PB-A11,PB-E6,PB-E8,PB-A10,PB-A12,PB-A13,PB-A8,PB-A9,PB-A6 

And Other Model

2013/09/27 — 2020/03/27
Patent:
| Certified Picture | Certification Name | Certified By | Certificate No. | Available Date — Expired Date |
| --- | --- | --- | --- | --- |
| | ZL 2017 3 0193917.2 | Design Patent Certificate | APPEARANCE_DESIGN | 2018/01/16 — 2027/05/02 |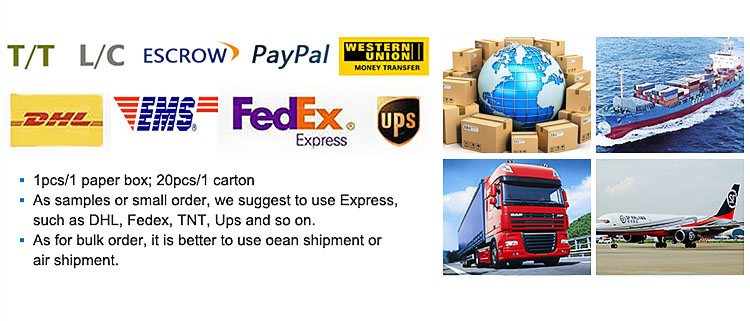 Packing:
1. VT600 GPS Tracking Device Size: 65*61*26mm
2. VT600 GPS Tracking Device Weight: 105g
3. VT600 GPS Tracking Device will be packed by gift box, the size is 133*103*72mm, 350g per ft box
Delivery:
1. Sample and mini order will be delivered within 2-3 working days after the receipt of payment.
2. For order over 500pcs or customized order, lead time will be 3-5 weeks after the receipt of payment.
We provide free GPS Tracking System for one year, simple and easy for management and tracking!
| | |
| --- | --- |
| Features | Descriptions |
| Time Zone & Local Language | More than 10 languages and timezone settings |
| Multiple Account Support | Allow you to set up an account for company user to management many vehicles |
| Group Management | The user can manage the vehicle by setup difference groups |
| Reporting and Export | History report, Speeding report, Mileage report, Fuel Report etc. |
| SMS and Email Notification | Get alert by SMS or Email  |
| GPRS Command | GPRS Command available, OTA support |
| Location History | Replay the location history |
| Real-Time Alert | SOS Alert, inputs alerts, over speed alarm etc. |
| Communication Failure Monitoring | Monitor the vehicle when it is not reporting |
| Online Vehicle Engine Control | Turn on or turn off the engine |
| Geo-fence Notification | Set up a zone to monitor the vehicle enter or exit this zone. |
| Rebranding | Customization of Logo, domain available |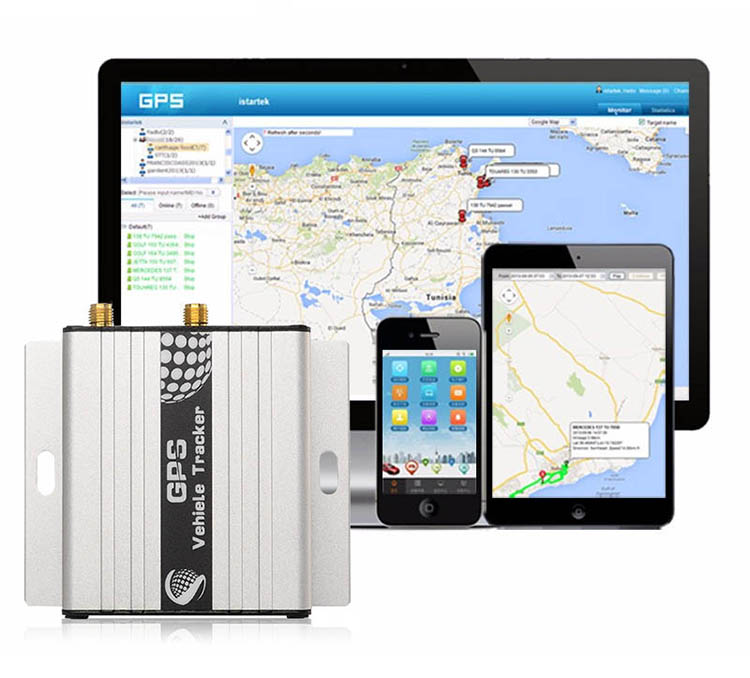 How to Start Business With US?
1. Send us inquiry from Alibaba or contact us directly via trade manager
2. Place sample order online or provide details to us for issuing an invoice
3. Payment via Alibaba online order or PayPal, Western Union, T/T etc.
4. We will arrange delivery in 2-3days upon payment for the order quantity is 500pcs
What Certificates available?
CE, RoHS, ISO9001:2008
How is Quality Control and Warranty?
1. All products have been 100% strictly Quality Checked in a house before packing.
2. All products have been well packed before shipping.
3. 24 Months warranty is provided for GPS Tracking Device vt900. We will bear maintenance cost during the warranty.
OEM GSM Sim Card Fuel Vehicle Cheapest Small Motor Car GPS Tracking Device With Anti Jamer For Objects