If you're looking for a Cheap car tracker for a vehicle that uses 4G connectivity, there are several options available in the market. Here are a few affordable options to consider:
iStartek VT100-L GPS Tracker: The Spytec GL300 is a popular and affordable GPS tracker that supports 4G connectivity. It offers real-time tracking, geofencing, and a mobile app for easy monitoring. It's a compact device that can be easily hidden in a vehicle.
PT32 Mini Portable GPS Tracker: This compact and cost-effective GPS tracker also utilizes 4G connectivity. It provides real-time tracking, geofencing, and location history. The device is small and can be concealed easily in a vehicle.
IStartek VT200-L Cheap car tracker: is another affordable option with 4G support. It offers real-time tracking, geofencing, and multiple alerts for various events such as speed limit violations and low battery. The device is compact and easy to install.
iStartek 4G VT300-L GPS Tracker: is a compact and inexpensive GPS tracker that uses 4G connectivity. It provides real-time tracking, geofencing, and customizable reports. The device has a magnetic mount for easy installation in a vehicle.
Before purchasing a GPS tracker, make sure to check for compatibility with your local cellular network provider to ensure proper functionality. Additionally, consider the features you require, such as battery life, subscription fees, and mobile app capabilities, to make an informed decision.
The benefits of GPS Tracker
Better performance, faster data transfer speed.
At present, with the advancement of the Internet of Things era, countries gradually phase out backward network facilities, 2G networks are basically eliminated, and 4G networks have covered most countries. The 4G GPS Tracking Device has better performance and faster data transfer speed than 2G/3G products.
Storehistorical datas for many days
4G GPS Tracking Device can store more data for many days. You can quickly browse your driving history track. This can help you regulate driving behavior and make Driver safety by checking your data daily.
3.Real-time tracking to improve fleet management efficiency
4G GPS Tracking Device is a good Fleet management solution. Real-time tracking fleet will be simple to connect to our devices via PC, mobile software.
Our devices are ideal solution for fleet management systems. You can install our 4G GPS trackers on multiple vehicle or trucks. Once activated, you can view all the historical driving track data on APP interface.4G GPS Tracking Device can help you better manage fleet effectively in some spots including Driver safety,Driver retention Fleet tracking in real-time,etc.
Applicablefor many fields
4G GPS tracker can be used in a wide range of areas, including Fleet management, supply chain management, asset management, etc.
If you are still using 2G or 3G Cheap car tracker, and your country is moving to 4g then, it is time to switch over to 4g GPS tracker. GPS trackers that are used for managing vehicle and other similar purposes should be fast and efficient. At present 4G connectivity provides the best speed of a data transmission in a device.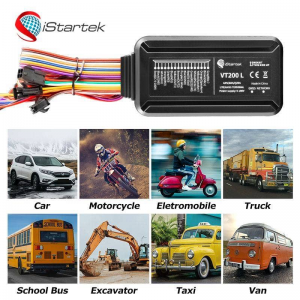 iStartek offers VT200L which is a 4G based Cheap car tracker.