At present, there are many GPS trackers on the market, today we will introduce a GPS tracker for you – an engine immobilizer GPS car tracker. What is the engine immobilizer GPS car tracker?
iStartek VT200-L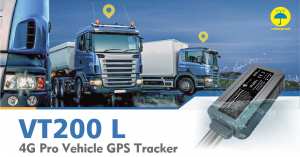 VT200 L is a 4G-based GPS engine immobilizer GPS car tracker. With built-in high-precision GPS positioning module reports the vehicle location and vehicle status to the vehicle tracking service platform through the 4G network for real-time vehicle monitoring, anti-theft, and dispatch management.
Application

It can be applied to fleet management, public transportation management, school bus management, taxi operation management, vehicle insurance company management, leasing management, private car anti-theft, and so on. VT200-L supports 2G, 3G 4G network since each country has a different 4G frequency, you need to select the version of your local corresponding frequency to buy a 4G GPS tracker.
Appearance
》IP66 Waterproof
》9-100V Power Supply
》500mah battery with 6H standby
》built-in 128Mb Flash memory. When the device enters the blind area, it will automatically save historical positioning data. When the network recover, it will automatically resend historical positioning data to the service platform.
》3IN + 2OUT+1AD+1RS232+1- Wire
》contains an RS232 port, which can be connected to RFID to perform identity recognition and vehicle control for vehicle drivers; It can also be connected to an OBD reader to read car ECU data and other RS232 peripherals to achieve corresponding functions.
》1-Wire can be equipped with up to 8 temperature sensors or iButtons
Optional Accessories & Functions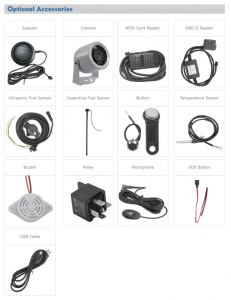 》USB cable: is necessary for configuration data
》Microphone: Support Listen-in
》Microphone & Speaker: Support Two-way Audio
》Relay: Remote cut-off (petrol/power)
》Buzzer: sound an alarm when the vehicle is over speeding or RFID card swiping, ibutton card swiping
》SOS button: realize the SOS alarm
》RFID Reader/iButton Reader: collecting driver ID and controlling the vehicle engine
》Temperature Sensor: Monitoring temperature of the vehicle
》Capacitive fuel sensor, calibrator, Ultrasonic fuel sensor: Fuel Monitoring
》OBD II Reader: It can be used to diagnose vehicle data, such as fuel volume, engine speed, and so on.
Alarm:
Low battery alarm
Engine and door status change alarm
Geo-fence alarm
Speeding alarm
GPS signal loss alarm
Fatigue driving alarm
Fuel theft alarm
Low fuel alarm
harsh acceleration alarm
harsh turning alarm
breaking alarm
We offer VT200-L 15 days free use of our platform, then $2.50/year per device, $10 for lifetime per device.
You can also use third-party platforms. Currently, many of our engine immobilizer GPS car tracker protocols have been added to third-party platforms, such as GPS-Server, GPSGATE, TRACCAR, FLESPI, and so on. If you have your own platform, you can add our device's protocol to your platform. So you can use your own platform to track the device.
We have very big promotion in September, Buy 100pcs get 2pcs free, buy 1000pcs get 25pcs free! Buy a 1pc sample, you can use our platform for free for one year. Please contact us to buy an engine immobilizer GPS car tracker asap!