With the development of the new network era, the competitive momentum of the GPS Tracker industry has not been sharply reduced, from the initial 2g, 3G GPS tracker price competition to the 4G GPS tracker product multi-functional competition.
According to the latest news: "BUS & TRUCK EXPO (International Bus and Truck Exhibition) will take place on 01-03 November 2018 at the Bangkok International Trade; Exhibition Centre (BITEC) in Bangkok, Thailand."

Startrack company latest 4G GPS tracker multi-functional product will be unveiled for the first time at this exhibition, and the most striking feature is the product's functionality, as expected? As we all know, VT900 (3G) has won the recognition of the market in Thailand, through the NBTC certification in Thailand, and 4G GPS tracker is based on VT900 to make a more distinctive development, from the original single function to increase the camera function, alcohol detection, and other functions.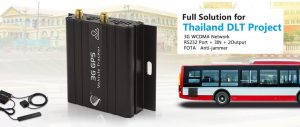 Prior to this, Startrack 4G GPS tracker multi-functional products, mainly with the demand of Australia, Singapore, Canada, Thailand, and other markets. In order to better meet customer needs, Startrack has done a lot of preliminary work, mainly from the original customer gathered the relevant functional requirements and recommendations, spending one year Time to study this 4G GPS tracker multi-functional new product, and this exhibition in Thailand, is undoubtedly to enter the Thai market, in the latest areas of new products play the first battle in 4G GPS tracker.