iStartek is a company that provides GPS tracking and telematics solutions for businesses and individuals. They offer a range of products including vehicle trackers, personal trackers, asset trackers, software solutions and 4G LTE Router. Their GPS tracking devices are designed to provide real-time location tracking, vehicle health monitoring, and driver behavior analysis. The company serves customers in various industries including transportation, logistics, construction, and more. iStartek is headquartered in Shenzhen, China, and has a global presence with offices and partners in over 50 countries.
"Quality is our culture".That's our company tagline, and one we've been flattering all along. Shenzhen iStartek Technology company is professional manufacturer for 4G/3G/2G/NB/Lora GPS tracker and 4G LTE Router since 2015 in China.
iStartek is ISO9000 approved factory, offering 3 years quality warranty, with 1% lower defective rate and rich government project experience, such as NBTC, LTFRB, AIS140, etc.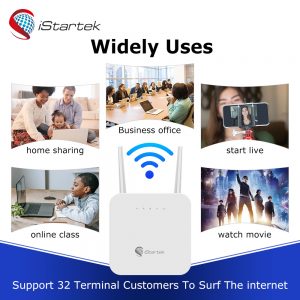 As a GPS tracker and 4G wireless router manufacturer that has been established for many years, it can integrate industry and trade. The biggest advantage of our company is that it can be customized according to customer needs.
In addition to meeting customer needs in the appearance of the equipment, such as logo customization, product packaging customization, the biggest advantage is the functional requirements customization.
According to each country and different customer project requirements, our R&D department provides satisfactory solutions.
After experiencing the epidemic, we found that we have higher requirements for the network.
During the epidemic period, many home offices and online courses were born, and a large number of online shopping orders were generated.
We also hope that the use of the network will be more portable. Recommend our hot sale 4G LTE ROUTER today, model MC116:
》300Mbps Indoor CPE 4G LTE Router
》ZX297520V3E
》4G to WiFi, 4G to Lan
》Support WAN/LAN
》DL 150Mbps, UL 50Mbps
》Support IPV4, IPV6
》2.4G, WI-FI Rate: 300Mbps
》Maximum access 32+1 devices
》Support traffic management
》Support TR069 PROTOCOL
》Support WAN remote access
》SSID broadcast function, support hidden WIFI
》Support WPS, VPN, port mapping, watchdog
》Support lock frequency band
》2 fixed external antennas
MC116 4G LTE Router also has a battery version. When the home power is cut off, the wifi can still be used. It can be used for 6 hours when fully charged.
The optional accessories of MC116 4G LTE Router are adapter, 1M network cable and battery.
Because this is a 4G wireless LTE router, the device needs to use a SIM card, so it needs to match the appropriate version according to the frequency band of the local operator.
It is recommended that you purchase a local data package.
Would you like to take a sample?
Please contact me asap!
whatsapp:+86-18680372944
skype:[email protected]
If you want to know more about iStartek 4G LTE Router products, you can check it on our official website: https://www.istartek.com/
Or send an email to: [email protected]. My Whatsapp: 0086-18680372944. Thank you for watching.Grateful.