iStartek GPS Tracker Review
It's safe to say that cars are a part of life in this 21st century,  Not only do 90% of all households have a vehicle, 60% have two or more.
With that in mind, protecting your car is a must. While insurance helps with things like car theft, medical bills, or repairing your car after an accident, there's a simple device that can help you protect and keep tabs on your car and its drivers: a iStartek GPS Tracker. 
Now here comes a problem of which iStartek GPS Tracker is good for my car and which manufacturer can I trust to provide me a reliable and quality device that can meet my requirements? you do not have to worry about that because with iStartek you can be confident of the quality of their products and their service is awesome.
Who is iStartek?
Shenzhen iStartek Technology Co., Ltd. is a high-tech enterprise engaged in research, development, manufacturing, and sale of IoT products such as 2G/3G/4G and NB GPS Tracker and 4G/5G Will router.
Since its inception in 2015, iStartek has established all-around strategic partnerships with a number of internationally renowned IT enterprises, such as Qualcomm, MTK and CCMIC, etc, with the capability of rapidly mastering and accessing global leading-edge technological resources to make technological breakthroughs and facilitate product innovations. For more information, you can visit https://www.istartek.com/
What are hot sales iStartek GPS Tracker?
Among different GPS Trackers owned by iStartek VT200 L stands out with the following features: 
iStartek VT200L GPS Tracker can support a 4G/3G/2G network.
iStartek VT200L GPS Tracker can support GPS/BDS/GLONASS/QZSS
 multiple positioning systems for high-precision real-time positioning.
iStartek VT200L GPS Tracker can support Driving behavior monitoring 

by harsh acceleration alarm, breaking alarm, harsh turning alarm, speeding alarm, drunk driving alarm, fatigue alarm, etc.
We can go on and on but for your information, you may check out this link for more details.
Benefits of using iStartek GPS tracker for your car
Now that you have a basic idea of who iStartek is, take a look at the top reasons iStartek GPS tracker is the best choice for you.
1. iStartek experience and offers.
iStartek offers 1-3 years quality warranty, with 2-3 days fast delivery and 2 hours fast technical response, CE/ROHS approved.
OEM and ODM projects are their specialty, iStartek R&D team got rich ODM experience for Government projects, such as NBTC, AIS140, LTFRB, etc.
2. Customization
iStartek makes sure that all clients get their heart desires, if you have other function demands you can let us know, they can customize it for you. iStartek has great experience in doing government projects, for instance, iStartek customized VT600 covert vehicle tracker to meet Philippines government demand, send data to 2 different servers with different data format, Customized VT900 G mobile vehicle tracker to meet per Thailand government project demand, to read the driver's license information then send it to government's server, etc. Recover a stolen vehicle faster
3. After-sales Service
If there is a manufacturer that I admire for their service, iStartek is the best, they have a specialized technical team which offers service in a different language to the satisfaction of every client no matter where you come from and they make sure every question is answered and one thing I like is that they are open to customers suggestions or opinions.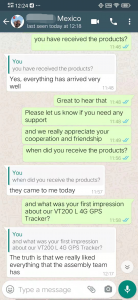 iStartek GPS Tracker customers Review