Before talking about it, let's study together what is magnet GPS tracker?
Absolutely Magnet GPS tracker should have a built-in magnet, beside this, is there any other features our Magnet GPS tracker VT100 support? Yes, Our VT100 has longtime standby, easy install features.
Now let's figure out why magnet GPS tracker is recommended when talking about vehicle GPS tracker? Using Magnet GPS tracker for real-time vehicle tracking, we can attach it to metal in any place, not like other type vehicle GPS trackers need to connect with various cables. In this way, a magnet GPS tracker can make you free of installation troubles, all of us can handle it easily not related to any technical aspect. Also, Magnet GPS tracker VT100 has built-in Light sensor, if anyone removes it there will be a Remove alarm.
| | |
| --- | --- |
| | |
Secondly is about magnet GPS tracker long time standby working time, VT100 magnet GPS tracker has built in 5000mah battery, it can work for around 30days, its bring us a lot of conveniences, we can use it to track anything we want to track, just put it here when need real-time vehicle tracking , and take it away when no need tracking. Not like most trackers on the market need to connect with external power supply constantly, those trackers working condition is very limited, and can not be used if there is no constant Power supply.
Thirdly magnet GPS tracker is a type of hidden GPS tracking device, we can attach it under the car, then drivers can't find it easily. Normally car rental companies will install a vehicle GPS tracker on their vehicles, and if some drivers don't want to be tracked, they will throw the vehicle GPS tracker out, so easily hidden GPS tracking device is a good choice for car rental company.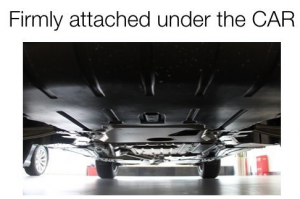 If you need an easy install and longtime standby magnet GPS tracker, please contact us freely. Who we are? We are from Shenzhen Startrack Technology, which is a GPS Tracker manufacturer in China since 2009, equipped with professional R&D team, our main product includes 2g/3G Vehicle tracker, mini personal/pet tracker, motorcycle GPS tracker etc.