The taxi mobile tracking device uses the GPRS remote data collection scheme, which can reflect the basic situation of the taxi to the GPS system, and use the GPS system to better carry passengers. For example, at this stage, Uber directly uses the mobile phone as a mobile tracking device. The Uber APP is a GPS system, so they can know where is the passenger fastly.
The basic function for mobile tracking device:
 1. Real-time tracking:
The mobile tracking device can track any vehicle according to the monitoring needs of the vehicle, and set the time interval (the mix time interval can be 1s). The monitored vehicle will automatically return the position and speed of the vehicle according to the time interval set we set for automobile tracking devices. Information such as running direction and time will be sent to the server. The tracking platform will record the vehicle's driving route and vehicle status in detail. The tracking platform will monitor vehicle usage in real-time for 24 hours.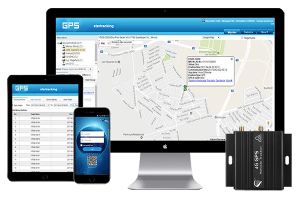 2. Voice monitoring: After the taxi driver encounters the car grab or robbery, the mobile tracking device will monitor all the conversations in the car and records the sound to the authorized phone number, which is beneficial to the public security department to judge the police and confirm the robbery.
 3. Remote control function: When some emergency happened, we can send power-off/off-oil lock-out lock command to the mobile tracking device to force the vehicle to stop and prevent the gangster from driving to escape.
 4. One key for SOS, when an emergency situation occurs, press the button on the mobile tracking device to directly report to the tracking platform and authorized Phone number.
 5. History playback function: mobile GPS tracking device can playback vehicle's route, vehicle working condition, driving time, location, dwell time, stop location and other vehicle use or alarm information during a certain period of time.
Besides the above 5 points, mobile tracking device also has many other functions such as:
Fuel Monitoring, Driver identification, track on demand, overs peed alarm, GSM anti jammer, etc.
If you are interested in our mobile tracking device for cars or have new function demand, welcome to message us freely, we are IoT devices manufacturer in China since 2009, and we have our own R&D teams, with flexible OEM and ODM policy.