You may be planning to enjoy your summer vacation by taking adventure trips or cross-country trips by motorcycle. You will be on a route that few people are able to explore and venture, and you must make sure not to get caught up in any dangerous or uncertain situations. You may be on unknown and dangerous routes, in bad weather conditions, and may face problems that require an immediate response. Motorbike gps tracker is the latest technology to help you follow your defined route, avoid potential risks, and allow others to track your exact location if needed.
Motorbike GPS Tracker uses satellite-based technology to track the precise position and movement of a motorcycle. It will help you not get lost or deviate from the desired route. If you encounter any unexpected or dangerous situation, your family can immediately track your location and provide necessary assistance. You can also generate alerts via GPS trackers to notify any rescue teams or your team members, who can easily track your location and come for help.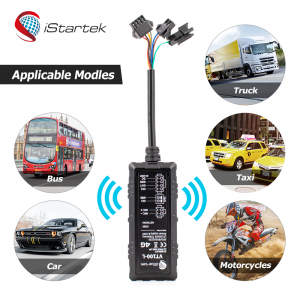 Finding the best GPS trackers for motorcycle use involves considering the location and security features you need for your bike. We recommend that you look at how fast the device can provide real-time GPS coordinates and what kind of historical tracking data is accessible. 
One of the top priorities when buying a Motorbike GPS Tracker tracking system for your motorcycle is safety. GPS devices can help law enforcement track stolen motorcycles, as long as the device provides accurate location and distance. We only considered trackers with GPS technology because they use geo location to provide real-time location updates over an almost infinite range. On the other hand, if a cellular GPS tracker is out of range of its carrier's network, it will disconnect. Some GPS models will also include a SIM card, so you can use cellular data as well.
iStartek VT100-L is recommended. VT100-L is a 4G based vehicle GPS Tracker with built-in high-precision, GPS+BDS dual-mode positioning module;
It integrates functions of driving behavior monitoring, remote fuel cut, low power alarm, external power disconnect alarm, various abnormal alarms, electronic geo-fences etc., and uploads information to the platform to create comprehensive supervision and security for vehicle driving. By its ultra mini size, it is easier to install and hide, which is suitable for the automotive risk control industry, vehicle supervision, anti-theft and shared travel industries.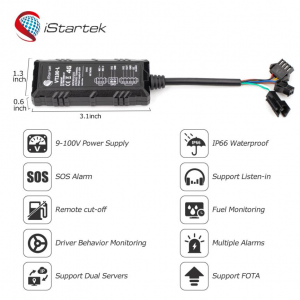 VT100-L Motorbike GPS Tracker has a built-in 16Mb Flash memory. When the device enters a place without network, it will automatically save the historical positioning data. When the network returns to normal, it will automatically resend the historical positioning data to the tracking platform.
Please feel free to contact us if there you are interested in our products.