Following is a real story happened between us and our Swaziland client about  truck GPS tracker:
Fernando is a boss on self-employed car renting company in Swaziland, he has 60pcs cars and some workers. But several months before, those cars fuel cost too fast, and some cars come back too late. This makes him a Headache, it makes his management cost increased.
Then he starts searching on ALIBABA Website, after input truck GPS tracker there are too many choices, it's hard to choose, also he found there is some additional condition here, like" Golden supplier" and "Trade Assurance", he chooses both, then search again. Finally, he found our product, as our high response rate and volume of transaction ALIBABA, he contact us directly.

Fernando is satisfied with our professional service and detailed reply, then he ask us to send Proforma Invoice for 60pcs trackers for trial.
On March 16, 2016, he made payment

for 60PCS truck GPS tracker:

On March 23,2016,he received 60pcs

truck GPS tracker: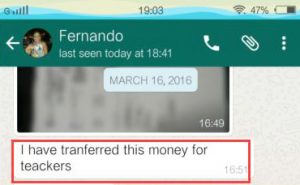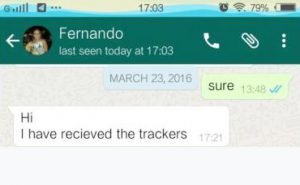 On that day we send VT600 truck GPS tracker SMS fast guide to Fernando, after sending few SMS commands he made device online easily.
Nowadays we still keep in touch like an old friend, sometimes he shares us some interesting pictures of Swaziland, also he said after next few months, he will start a new business on Swaziland, to selling and Promoting truck GPS tracker.
We received an inquiry from him, he asks us the following questions:

 Do your truck GPS tracker has fuel monitoring function?
We replied "sure, our truck GPS tracker VT600 has 3 inputs, 1 output, and 1 analog input, you can connect analogy input with fuel sensor for fuel monitoring.

 Can i track my 60 cars in one map?
Yes, we will create an admin account for you on our tracking platform, once you log in, you can see all vehicles tracking status here.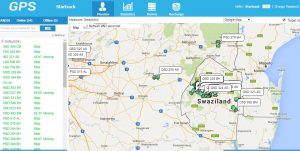 Can you tell me what other features your truck GPS tracker have?
a.Track by SMS/GPRS: You can send SMS command to a device phone number, then truck GPS tracker will reply you with a google link.
b.SOS Alarm: There is an SOS Button on VT600 GPS vehicle Tracker power cable, when on emergency, the driver press it, Authorized phone number and platform will get alarmed.
c.Geo-fence alarm: You can set preset area for the vehicle, then if vehicle move-in/out this area you will get alarm from the platform.
d.Engine cut: Once you connect relay with our truck GPS tracker, you can cut off the engine by SMS command easily.
Our contact details on June 1, 2016: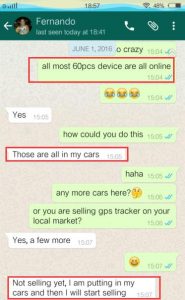 Our Story is continuing, how about you? Are you ready to join us?