4G Car tracker is mainly a car anti-theft GPS positioning product. The functions of the car positioning tracker generally include SMS positioning, timing positioning, network query, remote monitoring, and remote car locking. Some functions of the car locator:
Real-time positioning: Display the detailed location of the vehicle (area on the map, road names, landmarks, etc.), vehicle status (running, early warning and alarm, stopped running, parking not turned off, etc.) on the monitoring platform, and master the details of the vehicle running process Situation (license plate number, GPS time, driving speed, driver, alarm status, mileage, etc.)

Track playback: playback and viewing of the historical driving track of the vehicle, you can easily check whether the vehicle is driving on the required route, whether there is any problem, and during the track playback process, the system lists the detailed address at the interception point and vehicle status, including the serial number of the interception point, the direction, speed, mileage, longitude, latitude, and geographic location of the vehicle at this location.
GPS tracking devices for cars are becoming increasingly popular. Owners may want to track their cars for many reasons. Maybe they are afraid of having their car stolen, and if someone steals it, they want to have the best chance of finding their car.
Also, if more than one person is using the same car, the owner may want to keep track of where the car is and how long it has been driving. If you want to know the performance history of your vehicle, a tracking device is the best solution. Logistics companies, security companies, taxi companies, all need a good car tracker.
The application of the 4G car tracker is more and more common, so what kind of 4G car tracker is the most suitable for you?
iStartek recently released a 4G basic version of the car tracker – VT100-L, which is very affordable and can meet the needs of most customers.
VT100-L is a 4G based GPS car tracker. The built-in high-precision GPS positioning module reports the positioning information and vehicle status to the vehicle tracking platform through the 4G network for real-time vehicle monitoring, anti-theft, and dispatch management. It can be applied to fleet management, public transportation management, school bus management, taxi operation management, insurance company vehicle management, lease management and private car anti-theft, etc.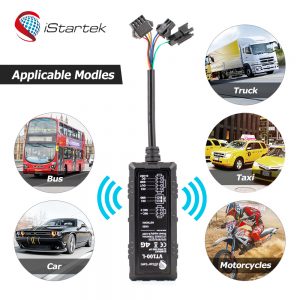 VT100-L has a built-in 16Mb Flash memory. When the device enters an area where there is no network, it will automatically save the historical positioning data. When the network returns to normal, it will automatically resend the historical positioning data to the tracking platform.
It supports many functions: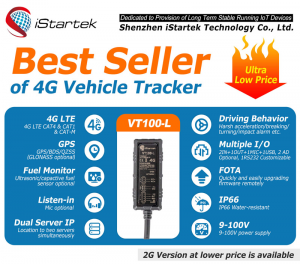 Product Function
GPS+BDS dual-mode positioning
Real-time tracking
Track by time interval
Track by distance
SMS Alarm
SOS Alarm
External power disconnection alarm
Low battery alarm
Engine and door status change alarm
Support dual servers
Geo-fence alarm
Speeding alarm
GPS signal loss alarm
Harsh acceleration alarm
Harsh deceleration alarm  
Harsh turning alarm
Impact alarm
Vibration (towing) alarm
Idling alarm
Fatigue driving alarm
Mileage report
Heading change report
FOTA upgrade
Set ACC ON, ACC OFF time interval
Remote control fuel/electricity
Buzzer alarm (optional)
Fuel sensor (optional)
Fuel theft alarm (optional)
Low fuel alarm (optional)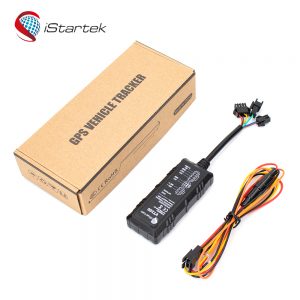 iStartek focuses on long time stable running 4G Car Tracker, so our QUALITY CONTROL gets more than 12 times of quality inspections, 36-hour aging testing, tracker qualified rate at a high level of 99.5%, and maximum trouble-free operation time of 43,800 hours. Please feel free to contact us if you are interested in our product.