The new generation personal animal GPS tracker PT29 is very compact, slim, and light. It can be together with A Nylon Collar(Optional Accessory) and Silicon Case(Optional Accessory) for GPS Tracker, Suit for Pet Tracking. IP 67 Waterproof Level Design and a lanyard gift, making it perfect for keeping your working outside under protection in whatever bad weather. It has a rechargeable battery (Bulletin 900Mah battery ) that lasts up to 15 days based on its usage.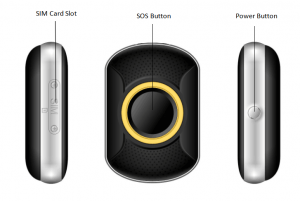 Please read the instruction manual below before use, in order to install the SIM card properly and use the animal GPS tracker easily.
Before first use, fully charge the battery.
Do NOT turn the animal GPS tracker on until the SIM card has been installed following the instructions outlined here.
How to use the Pet GPS Tracker:
Install the standard Nano-SIM card (select 4g SIM card for LTE network) according to the SIM card installation method. The SIM card needs to enable voice, SMS, data services (4G is recommended), and caller ID service.

SIM card installation method:

Insert a suitable 4G SIM card with the gold side facing upwards and the diagonal corner facing the bottom right corner of the tracker – see image for details.
(Option 1): Press the power button 10 times continuously within 5 seconds
(Option 2) by APP: Settings / 'Remote Shutdown'
6) Battery Charge: use the magnetic charging lead to attach to the back of the tracker (it will only connect one way), connect the other end of the cable to the  USB charger 5V1A / 5V2A or laptop USB.
Please do not use the fast charger that with 9V output, please use only 5V chargers or USB ports, higher voltage than 5V may damage the animal GPS tracker.