As live vehicle tracker becomes more and more mainstream, it is now possible to obtain relatively inexpensive GPRS vehicle tracker. So how to get a cheap vehicle tracker, is the tracker with the lowest cost is the best vehicle tracker? No, we need to consider evaluating the full cost of the cheap car tracker. In this article, we will explain in detail what and which aspects will affect the total cost.
First of all, we have to understand what the standard packing of this cheap car tracker we are looking at includes. Some GPS products have only the cheap vehicle tracker main unit and power cord as standard, so the cost is naturally very low, and some GPS products include the cheap vehicle tracker main unit as standard, Power cords, and other accessories such as relays, microphones, etc., the cost is not so cheap, so the cheapest, in general, may not be the cheapest, because many accessories are not included.
Secondly, we need to know what functions this vehicle tracker supports. Some cheap vehicle tracker only support basic GPS positioning functions and do not support other functions. For customers with more functional requirements, they cannot be satisfied, so they cannot be used. If you are looking for the cheap vehicle tracker and have certain functional requirements, we recommend that you first find out a few products based on the functional requirements, and then compare accordingly.
Thirdly, we have to look at the warranty terms, because we need to use the vehicle tracker for a long time after we buy it. Through the warranty terms, we can see the supplier's grasp of the product quality and the length of the product life cycle. Buy at least one GPS tracking the device will be used for about 3 years. iStarek is committed to producing high-quality GPS trackers. We have our own factory, R&D team and sales team. We provide a 3-year warranty for cheap vehicle tracker. Car GPS tracker include 2G 3G 4G car GPS, which can be used to track cars. motorcycles, trucks, buses, etc.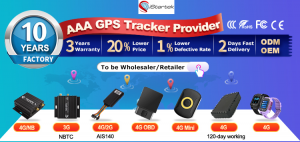 Fourth, we need to see whether the price of the tracking platform is included in the price because after the cheap vehicle tracking device is installed on the car, we need to track it on the mobile APP or web platform to see the real-time positioning information of the vehicle, so the APP and the tracking platform Is a must. Some vendors' platforms are very expensive, such as $5 per year. Normally, we will provide customers with a free trial APP and tracking platform for a period of time. Later customers can choose $2.5 per year, or $10 for a lifetime trial, its very cheap.
If you want to find a suit cheap vehicle tracker, welcome to contact us we will give you a professional suggestion.