VT005 OBD GPS Tracker is a 4g LTE heavy truck GPS tracker, it can read car engine parameters from car ECU like car fault codes, fuel consumption, RPM, ECT, MAP, etc.
VT005 OBD GPS Functions:
– OBD standard interface.
– Built-in 110mAh / 3.7V battery.
– Real-time vehicle tracking.
– Work with any 16-pin OBD interface cars.
– Can locate and get the position of your vehicle remotely via GPRS.
– Support function of map location inquiry.
– No installation, no wiring harness, simply plugs into OBD port.
– Working model: support 4G LTE GPRS & SMS model
– Shock Alarm
– Low battery Alarm
– Over-speed Alarm
1. OBD GPS SIM card installation
Open the rubber plug on the left side of the device and insert the SIM card correctly in the direction shown in the picture.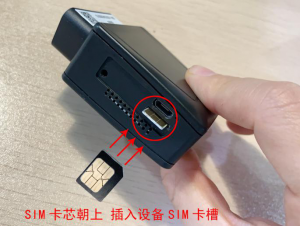 When the SIM card is inserted, there is a feeling of spring rebound, and the card can be pressed to the bottom to be stuck (if there is no spring rebound feeling, consider whether to insert or not)
Please ensure that the SIM card has a fee before inserting the card.
Note:
The terminal needs a GSM SIM card to be used for networking.

SIM card needs to open GPRS Internet access function

The size of the SIM card used is: 12*9mm (NanoSIM card)
2. OBD GPS Equipment installation
Look for the location of the vehicle OBD interface. The OBD interface is a 16-pin female connector and the interface is trapezoidal.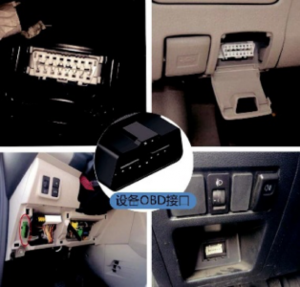 Note: The OBD GPS interface positions of different models are different. The following figure shows the possible locations of the OBD interface. Some vehicle OBD ports are hidden behind the plastic baffle.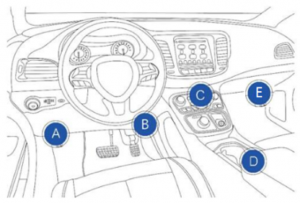 Area A: above the clutch pedal
Area B: Above the accelerator pedal
Area C: Front of the center console downshift lever
Area D: behind the front handlebar of the armrest box
Area E: under the co-pilot glove box
Note: Connect to the vehicle OBD GPS interface, you can directly plug in or use the extension cable connection (installation of the dedicated extension cord and Velcro can be selected at the dealer according to actual needs)