Hi, this is account manager – Ruby from iStartek, iStartek is a professional factory for 2G/3G/4G/NB GPS Tracker and 4G Router since 2015. To use some of these car tracker apps effectively, you must make sure your smartphone is always in the car. Alternatively, you can buy a physical car tracking device with app that you can attach to the vehicle itself and use its corresponding app to determine its location.
iStartek tracking platform is a good vehicle tracking platform – iTrackcare.
It's great for monitoring fleets in real time, and thanks to its clean user interface, it allows you to easily build your own fleet systems.
And it can be used for personal as well as commercial purposes. iTrackcare has speed alerts, geofencing alerts, real-time fuel readings and speed alerts. It can also generate reports if you need to see a history of car activity.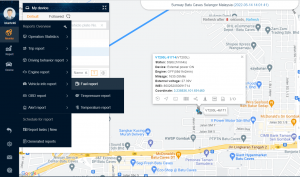 Following is iStartek tracking platform demo account for your reference:
www.itrackcare.com
APP: iTrackcare
account: itrackcare
Password: 12345678
And iTrackcare platform fee as below:
So how about iStartek car tracking device with app?
iStartek has 2G, 3G and 4G GPS Tracker. Our best seller are VT100-L and VT200-L.
VT100-L is a 4G based vehicle GPS Tracker with built-in high-precision, GPS+BDS dual-mode positioning module;
It integrates functions of driving behavior monitoring, remote fuel cut, low power alarm, external power
disconnect alarm, various abnormal alarms, electronic geo-fences etc., and uploads information to the platform to
create comprehensive supervision and security for vehicle driving. By its ultra mini size, it is easier to install and
hide, which is suitable for the automotive risk control industry, vehicle supervision, anti-theft and shared travel
industries.
VT100-L has a built-in 16Mb Flash memory. When the device enters a place without network, it will automatically
save the historical positioning data. When the network returns to normal, it will automatically resend the historical
positioning data to the tracking platform.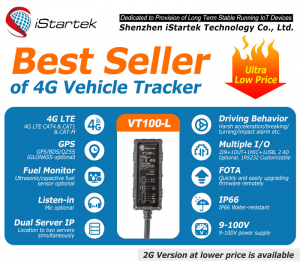 VT200 L is a 4G based GPS vehicle tracker. With built-in high-precision GPS positioning module reports the vehicle
location and vehicle status to the vehicle tracking service platform through the 4G network for real-time vehicle
monitoring, anti-theft, and dispatch management. It can be applied to fleet management, public transportation
management, school bus management, taxi operation management, vehicle insurance company management,
leasing management and private car anti-theft, etc.
VT200 L has a built-in 128Mb Flash memory. When the device enters blind area, it will automatically save historical
positioning data. When the network recover, it will automatically resend historical positioning data to the service
platform.
VT200 L car tracking device with app contains an RS232 port, which can be connected to RFID to perform identity recognition and vehicle control for vehicle drivers; It can also be connected to OBD reader to read car ECU data and other RS232 peripherals to achieve corresponding functions.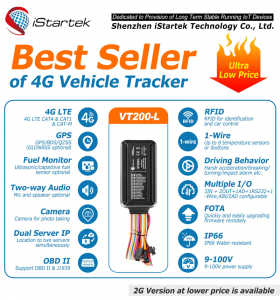 If you want to know more about iStartek car tracking device with app products, you can check it on our official website: www.istartek.com. Or please send email to my Whatsapp: 0086-18620363484/email: [email protected].