If you are one client of iStartek company, you should know iStartek GPS tracking platform, it will be a good choice for you. Following are the reasons:
1. Low Cost.
We have a period of Free testing time for iStartek GPS tracking platform, in this way client can know more our platform. After that we offer 2 different options: Client can choose $2.50/piece per year or $10.00/piece for lifetime use. (Openstreet map only)
2. Easy to Management.
iStartek GPS tracking platform has a very user-friendly interface, every client can handle it easily.
After login you can see it has 4 main pages:
Home Page
iStartek GPS tracking platform Home page shows us how many trackers we have totally under our account.
Quick Sale: If we only need sale one device to our sub-account we can use a quick sale.
Bulk Sale: If we have several devices we can use a bulk sale.
Note: Below photo is just an example an account, when we create an account for our client, it will directly show client account name, not "startracking"

Management Page
iStartek GPS tracking platform Management page shows us:
How to create sub-account for our client by clicking "Add", customized account name and password are available.
How many pieces yearly platform card, lifetime platform card left in our account?
How many devices we have in stock?
How many days the device will expire on the platform?

Monitoring Page
By clicking the "Monitoring" button, we will directly enter in tracker monitoring page, here we can check where is our vehicle clearly.
On the right corner, there is an Alarm notice, we can see various alarm from our trackers.
Also has more features, by clicking "More" button, you can see different options, such as Set Geo-fence, send GPRS Command via iStartek GPS tracking platform.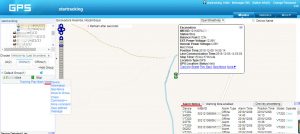 Upgrade Page
iStartek GPS Tracker support OTA function, that means we can upgrade device firmware via iStartek GPS tracking platform.

3. Completely neutral.
That means iStartek GPS tracking platform is a neutral designed platform, no iStartek brand name or Logo there.
So our client no need to worry about their clients can find us, we protect the benefits of our distributors.
Want iStartek GPS tracking platform demo account? Contact us NOW!