As we know GPS Tracker is used together with a GPS tracking system, once installing GPS tracker inside the vehicle, we need to use mobile app or vehicle GPS tracking system to view vehicle's status, such as vehicle current location, vehicle speed, vehicle balance fuel percentage, etc. So when client buying GPS tracker from us, they will have a doubt about which GPS tracking system is compatible with iStartek GPS Tracker?
Firstly, iStartek has own web-based GPS tracking system and mobile app, mobile app is available for both Android and IOS Phone, you can choose to use our vehicle GPS tracking system, normally we offer a period of free using for client testing, after that you can choose $2.50/pcs yearly, or $10.00/pcs for lifetime using. On our real-time GPS tracking system login page, it supports multiple languages, you can choose as per your need.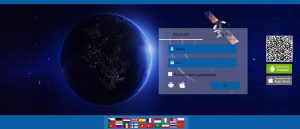 iStartek GPS tracking platform is very user-friendly, you can create sub-accounts for your client. After Login your admin account, click "New", there will be a new page coming "Add Customers" on auto GPS tracker system, then you just need to fill the following information as your client need. There are 2 types you can choose for a subaccount, End USER and Distributor, the default type is End USER. End USER type normally is open for some person just buy 1pcs or several pieces for private using. Distributor type normally is open for some person to buy a large quantity from you, then he will resell to others. When your client login GPS Tracking system with his Distributor account, he has the same right as you, like could open sub-account for their client.
Secondly, there are many third parties GPS tracker system which has integrated iStartek GPS Tracker GPRS Protocol already, such as GPSgate, opengts, traccar, gpswox, GPS-server, gpsengine, etc. iStartek GPS tracker on GPSWOX, GPS-server GPS tracking system shows as below, as you can see iStartek VT206 GPS Tracker, iStartek VT600 GPS tracking device and iStartek 3G GPS Locator VT900 GPRS Protocol has been integrated in GPSWOX, GPS-server GPS tracking system.

If you have a query for which GPS tracker system is compatible with iStartek GPS Tracker, please contact us freely, who we are?
We are a manufacturer in China for GPS tracker since 2009, there are various products on our product line, such as motorcycle GPS tracker VT202, 2g/3g Vehicle/ car tracker, mini personal tracker, etc. Also, we have our own GPS tracking system and mobile app and experienced technical support team, we are always ready to support you.