TP002 is iStartek Web-based tracking platform, include a Mobile app for Andriod& IOS phones.
It supports multiple languages, such as English, Spanish, Vietnamese, Portuguese, French, Arabic, etc.
iStartek Tracking Platform is the most user-friendly application to track your vehicles. This dynamic technology which runs on our own high-quality GPS Server is all set to stream across the global market!  Using our product we can track vehicles like trucks, cars, buses, bikes and much more.   
Tracking platform--------Online Tracking software TP002:



Simple easy for management and tracking!
| | |
| --- | --- |
| Features | Descriptions |
| Time Zone & Local Language | More than 10 languages and timezone settings |
| Multiple Account Support | Allow you to set up an account for company user to manage many vehicles |
| Group Management | The user can manage the vehicle by setup different groups |
| Reporting and Export | An overview report, Speeding report, Mileage Report, Stop Report |
| SMS and Email Notification | Get alert by SMS or Email |
| Real-Time Tracking | Track the vehicle by real-time |
| Location History | Replay the location history |
| SOS Alarm | SOS Alert |
| Communication Failure Monitoring | Monitor the vehicle when it is not reporting |
| Over Speed Monitoring | Monitor the vehicle when it is over the speed |
| Online Vehicle Engine Control | Turn on or turn off the engine |
| Geo-fence Notification | Set up a zone to monitor the vehicle to enter or exit this zone. |
| Landmark | Mark the new point in the map by yourself |
1. Tracking Platform Login:
1. 1.Choose login with IMEI NO, then login with each device ID.
Choose login with IMEI NO.
http://www.istartrack.com
ID: 121160224163
PW:123456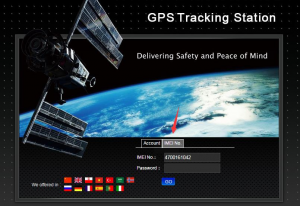 1. 2.Choose login with "Account", use your Admin account to login.




http://www.istartrack.com




Tracking Platform Choose login with Account




Account: German GPS




PW:123456





2.Create sub-account for your client




After Login your admin account, click "New", there will be a new page coming "Add Customers", then you 

just need fill the following information 
as your client need. 

There are 2 type you can choose for sub-account, End USER and Distributor, the default type is End USER.




End USER type normally is open for some person just buy 1pcs or several pieces for private using. 

Distributor type normally is open for some 
person buy large quantity from you, then he will resell to others . 

When your client login with his Distributor account, he has the same right as you, 
like could open sub-account for their client.





3.Add device to sub-account




3.1.After open the sub account for your client, then you could choose the device you need to move, click "Sale"





3.2.After Click "Sale" you will see as follows:





3.3.Then click as follows, it will show Customer name, after choose Customer name ,then choose "Save".



4.Tracking Platform Reset Password :


4.1.If a client forget the login password, you could find this device , click "More" ,then you will see "Reset Password" as followings:(Just for a 
certain device)





4.2.If a Client forget his end user or distributor login password, we could reset their password as below:




Please find the end user or distributor account name firstly, then click the right mouse button






5.Change time zone for mobile app or web based Tracking Platform




Just need click your distributor account name or end user account name on the right of the page, then you will see as follows:




Note: Login with each device ID could not change the time zone on platform, this right only for distributor and end user account.





6.Tracking Platform More settings




You could change and edit some information after click "Edit"




What makes iStartek tracking platform different? 
Multiple languages available

On-site deploy

7/24 customer service

Web/APP (logo, domain, login page) customization

Open API

Fleet management analysis

AWS and Microsoft Azure Cloud based

Daily Performance

Dashboard

Vehicle Performance

Over Speed History 
If You use our trackers, you can use iStartek Tracking Platform for free.