Many people may not understand the meaning of auto finance or auto risk control. Auto finance (risk control) includes leasing (car leasing, engineering car leasing), purchasing by leasing, mortgage loan and borrowing money to buy a car. So what does a 4G GPS Car Tracker do in these areas?
Leasing industry: the industry is the car rental, rentingthe car fitted with a 4G GPS Car Tracker, if no returning cars on time, car owner can know where the car is in, if someone still didn't send back the car, the owner also can go to drive back, making their assets a guarantee, after all, a car costs a lot of money.

Rent: many car buyers will choose a way, in fact, similar to installment payment, first in the form of lease to get the car, every month to a fixed rental fare, a few years later, the car is their own.The car shop boss installed GPS tracker in the car, if someone did not pay the rent on time, he can get the car back. It is also a guarantee to the car shop

To buy a carby loan: now many people go to a bank loan to buy a car, the bank staff will install a 4G GPS Car Tracker in your car, so if you didn't pay on time, they will drive your car back. And some other people get the loan directly from the car shop or third party. No matter who you ask for a loan, before the car belong to you completely, the tracker is to give themselves a guarantee.
It's important for car risk control safety companies to select professional 4G car GPS tracker.
From beginning to end, the primary problem of auto industry has been risk control. There are frequent news reports of two companies snatching one car when the car is backed up. The game between each other makes the automotive financial risk control industry being constantly talked about.
Even though vehicle-mounted GPS is the most efficient method of risk control in the automobile finance industry, it can not really achieve the purpose of risk control because of improper selection of products. The traditional tracker with simplification of action, unstable performance, does not have disassembly alarm. Choosing 4G car GPS tracker with anti-takedown features for cars will make risk control companies more comfortable with cars and more efficient supervision.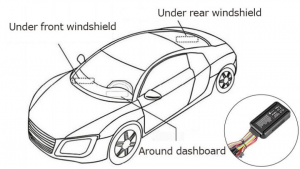 4G car GPS tracker has real-time positioning, anti-disassembly function! and can hide the installation.  The specific location of the car can be mastered at any time and anywhere, and the functions such as looking back on the historical track and electronic fence can prevent the user from driving the car out of the range according to the regulations. 4G Car GPS Tracker has embedded battery. When someone destroy the tracker line at the moment, the platform immediately issued a line cutting alarm information. Knowing that the tracker is destroyed can take action in time to avoid losses and reduce the risk for credit and finance!
Nowadays, 4G GPS Car Tracker technology is mature and stable, with complete functions and a wide range of products. Without in-depth understanding, it is difficult to know which GPS tracker has more advantages, accurate positioning and effective risk control. As a global positioning expert focusing on GPS positioning industry for more than 7 years, iStartek hereby specially reminds the auto finance risk control company that no matter what kind of tracker is selected, it must select professional manufacturers with professional R & D production strength and qualification honor brand manufacturers, in order to avoid unexpected losses.