With the increasing use of technology, information has also gone mobile. Access to certain computer applications is at the palm of your hand. One such use for mobile phones is tracking cars via China GPS Tracker technology. These systems integrate the new technology and protect cars from theft. It has also proven to be a much better guide for directions to any place from anywhere in the world.
The GPS trackers can be attached anywhere inside the car or connected to an OBDII diagnostic port depending on the model of the car and the brand of the tracker. Either way, the device requires a monthly subscription to any cellular network to allow it to send and receive data to another device such as a computer, laptop, tablet, or smartphone. Users can view the position of the vehicle in real-time and also offers other key indicators on the car such as the speed and distance traveled. Some devices send reminders on maintenance and can read engine trouble codes increasing their functionality.
Why do I need to buy a GPS car tracker, Let iStartek advise you:
If your vehicle is expensive and stands at a risk of being stolen then you need a China GPS tracker. Even with vehicle insurance, you might not be covered for theft and kidnapping. GPS car tracking is a much better solution and it is cheaper as well. The tracker offers a computerized security check on the vehicle and sends frequent updates regarding the whereabouts of the car.

Cars with GPS trackers also have a centralized locking system which helps lock all functions of the car through central control. If the car is stolen, you can take help from the GPS tracking company and lock all features inside the car so the thief is not able to get out of the vehicle and can be apprehended by the law enforcement agencies.

3. For those who usually travel alone and have to pass through secluded roads and byways, the GPS car tracker ensures that someone will always know where they are. They can rest easy knowing that if they ever get stranded without cellular service, their family members or employers will know where they are and send help.

4. Parents can install the GPS tracker on their teenaged child's car to monitor their driving behavior and keep a check on wherever they are going. This also helps them analyze if any petrol is being wasted by looking at the traveling history and other car indicators.
To get the maximum benefit out of a GPS car tracking system it is necessary that you invest in a good quality GPS car tracker and this is why you need iStartek GPS Tracker for instance 4G VT200L GPS Tracker.
Main key factors in Quality control for iStartek products
iStartek we have 2 high-speed SMT lines and 4 experienced assembly lines ensuring monthly production of 40,000 pcs of quality trackers.
iStartek does 12 times quality inspections, 36-hour aging testing, tracker qualified rate at a high level of 99.5%, and maximum trouble-free operation time of 43,800 hours therefore, we are confident of the quality of our products 100%.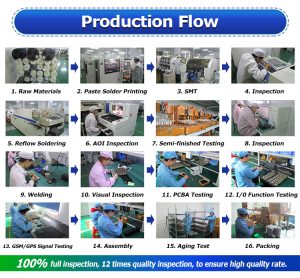 What does iStartek offer to Clients
iStartek offers 1-3 years quality warranty

iStartek offers samples for testing and the sample' payment can be refunded upon your bulk order.

iStartek offers OEM and ODM rebranding for projects, iStartek R&D team got rich ODM experience for Government projects, such as NBTC, AIS140, LTFRB, etc

iStartek does not require MOQ because we have regular China GPS Tracker stock.