Hello Everyone, this is Allen from iStartek, we are quality factory for 2G 3G 4G  fleet tracking device and 4G Router in China, i am technical Sales in iStartek, when helping client to make their VT200-L Fleet GPS Tracker work on platform, there are a few things we need to pay attention to, let us list it out one by one.
Before starting let's have a simple introduction for VT200-L fleet tracking device, which will help us to understand below points. VT200-L is a 4G fleet tracking device which support 2G and 4G Network, come with built in antennas and 500mah battery, it support many extended functions as below:
GPS +GLONASS +BD2

IP66 Waterproof, support FOTA

9-100V Power Supply

Support Two-way Audio (Optional)

Support Listen-in (Optional)

Remote cut-off (petrol/power)

Support RFID and OBD II Reader

Temperature/Fuel Monitoring

Driver Behavior Monitoring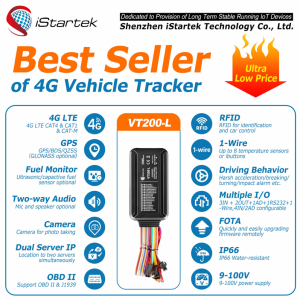 How to insert sim card correctly on VT200-L Fleet GPS Tracker?
VT200-L fleet tracking device is using Nano sim card, Please insert the card correctly according to the label on the device.
When inserting the sim card on VT200-L fleet tracking device, as shown in below photo, the missing corner of the card is facing inward and the sim card chip is facing down.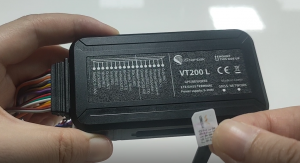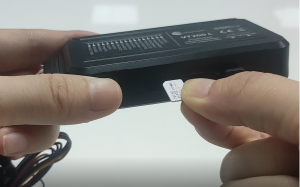 How to give power supply to VT200-L fleet tracking device?
VT200-L fleet tracking device supports 9-100V wide range power supply, so be sure your external power supply is within this range then it's ok.
Also please note there are 2 black and red wires on fleet tracking device power cable, just 1 of the black and red wires is correct for external power supply, the right side red and black wire is for 5V power supply for temperature sensor.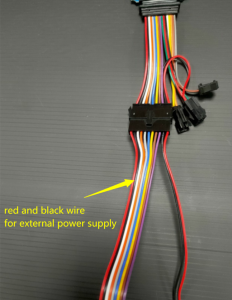 To make VT200-L Fleet GPS Tracker work, Normally we just need to insert a sim card which support 2G/4G Network, support send and receive SMS Command and Caller display function, then we can setup the device by SMS Command or PC Software, when sending SMS Command to VT200-L fleet tracking device, there is SMS Command reply back. For some special sim cards if you can not get SMS reply from VT200-L fleet tracking device and it keeps restarting, we need to set correct APN information on PC software Parameter Editor, otherwise VT200-L fleet tracking device will not work with it, not reply any SMS Command.

The Purple wire on VT200-L fleet tracking device Power cable is 1-wire cable to connect with temperature sensor or IBUTTON when needed, please make sure it will not touch to any wire which the voltage is higher than 5V, otherwise the 1-wire cable will be burned, tape the wires once you finish wire connection.
The above are some problems that customers will encounter when testing VT200-L Fleet GPS Tracker. If you have any questions, welcome to contact with us freely.