Hello everyone, this is Allen from iStartek, we are quality manufacturer for 2G 3G 4G GPS Tracker and 4G Router in China, recently there are many clients asked how to generate one month fuel report on gps tracker platform, in this article let us show you the steps.
Firstly login your gps platform, if you don't have an account on iStartek gps platform please contact with iStartek team, let iStartek team crate one account for you on gps tracker platform. After login gps tracker platform we go to monitoring page- Vehicle info report then click Fuel report.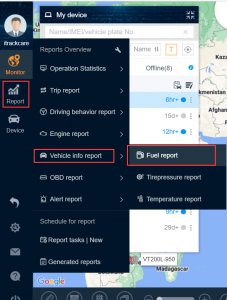 On gps tracker platform Fuel report page we can check one single day data after choosing the time period. If we want to check longer time data on gps tracker platform we need to click Schedule now, then there is a new page schedule for report, click add new, choose report type and name, for report type we just need to choose the specified report type that we want on gps platform, such as now we want to check fuel report on tracking platform, then we choose fuel report, after that we can choose schedule or single task.
Schedule: it is for generate daily or weekly report on tracking device platform, once schedule it will automatically generate report for the upcoming per day or weekly.
Single task: when selecting this we can user-define the time period on gps tracker system, Maximum time range of is one month.
After make everything ready, we select the device with we want to check the report, then click save. After that the page will refresh automatically, then we can see the task we setup show o schedule for report list, it will take some time to collect data and generate report, how long time it will take it's depend on the time period we choosed, the longer time period the more time it will take, finally we can click the file list to download the file in excel or PDF format.

With the same steps we can generate other reports on gps tracker software, such as:
Operation Statistics which include Mileage report, Moving overview and packing details.
Trip Report which include trip report, speeding trip report.
Driving behavior report which include Driving behavior overview, driving behavior report, driving behavior details.
Engine Report which include Engine overview, engine report, engine idle report.
Vehicle info report which include Fuel report and Temperature report.
OBD Report which include which include Trip fuel consumption overview, trop fuel consumption details and DTC Report.
Alert Report which include alert overview, alert report and alert details.
Thanks for your reading, if you have any query for iStartek gps tracker platform, welcome to contact us freely.