Recently there are many clients looking for motorbike tracking device, and there are many different motorbike tracking device suppliers, which one is the best, this article will give you an answer.
For motorbike gps tracking iStartek VT100 series is recommended, which is developed based on the market demand, motorbike gps tracking device VT100 series have 2G Version or 2G+4G Version, you can choose as per you need.
Also VT100 series motorbike gps tracker have compact size, IP66 waterproof, it's an idea model for motorcycle tracking.
VT100 series motorbike tracking device support many functions as below:
Driving Behavior: Harsh acceleration/ breaking/turning/impact alarm etc.

Support GPS+BDS,GPS+GLONASS is customizable.

FOTA: Quickly and easily upgrading firmware remotely.

Listen in: connect with Microphone to listen what's happen around your vehicle.

Fuel monitor: connect with capactive fuel sensor or Ultrasonic fuel sensor to monitor fuel level inside the vehicle.

Dual server IP: Support to send data to 2 different servers, especially used in government project such as LTFRB Project in Philippines.
OEM & ODM is our specialty, we have the ability to meet any your reasonable demand.
What are the cases iStartek did already?
1》Customize iStartek motorbike tracking device to meet per Thailand government project DLT demand, collect driver license information then send to server
2》Customize iStartek motorbike gps tracker to meet per Philippines government project LTFRB demand, make tracker to send data to 2 different servers.
3》Desige and produce VT140 motorbike tracking device as per India government project AIS140 demand.
4》Customize iStartek motorbike gps tracker as per Singapore client demand, make tracker send data via HTTPS.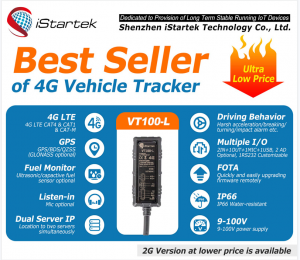 iStartek have strict quality control, and we choose quality components only, such as for VT100 motorbike gps tracker we control the quality by below parts:
Brand 2G Module and components with stable working performance and professional technical support.

Automotive grade dual high voltage protection from over 100v voltage

IP66 waterproof extend tracker life by keep tracker away from duct and humidity.

Offer you option to setup tracker and upgrade it's firmware.

Large GPS antenna with stronger GPS Signal strength.

High temperature resistant battery, the cost is twice than normal battery, but the performance is is more stable.
Thanks for reading this article, besides motorbike tracking device we also have other models, such as 2G 3G 4G Vehicle tracker, 4G longtime standby gps tracker, mini pet tracker, kids watch tracker etc, if you want more details welcome to contact us freely.