One more function means one more chance. May we know if you already have programmable gps tracker support IBUTTON/ RFID? Or is there any new function that your current supplier can not support?
iStartek VT200-L is a 4G accuracy gps tracker which support multiple functions:
VT200-L  4g gps tracker support 4G/3G/2G network, which give you more flexibility when choose sim card. 
VT200-L low price gps tracker support IP66 Waterproof ensures stable operation in tough environment.
Support 9-100V Power Supply so it can be used for all types of vehicles.
VT200-L cheap gps tracker support Two-way and Listen-in, so we can hear what's happening inside the vehicle.
VT200-L fleet gps tracker support remote cut-off, when there is abnormal you can send sms command to cut of engine remotely 
Support RFID and IBUTTON for driver identification
Temperature monitoring, which is wide used in cold chain vehicles
VT200-L programmable gps tracker support driver Behavior Monitoring, support harsh acceleration alarm, breaking alarm, harsh turning alarm, speeding alarm, drunk driving alarm, fatigue alarm etc.
500mah battery with 6H standby, so even if disconnect with external power supply, it still can work for several hours
Maximum 4IN or 2AD configurable, you can configure the device as per you need
VT200-L high quality gps tracker Support uploading location data to two servers simultaneously, this is mainly used for government projects, such as LTFRB Project in Philippines, we already have solution for it.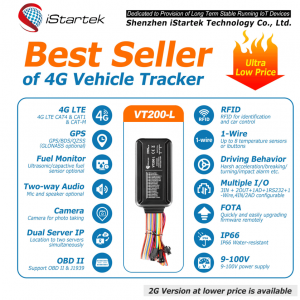 This article we are going to show you how iStartek VT200-L vehicle gps tracker work with IBUTTON for driver identification, this function is mainly used to prevent illegal start of the vehicle.
Step 1. Connect car gps tracker with those accessories, wires as below digram(IBUTTON, RELAY, BUZZER, IN2 connect with ACC)
If you simulate the testing in office, just need to connect relay 86and 85 wire, connect IN2 with power supply +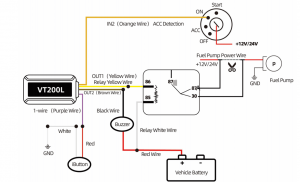 Step 2: Use sms commands to setup programmable gps tracker (every sms command we sent to truck gps tracker we will get sms reply back)
Set authorized ibutton Tag ID
for below ibutton tag, it's ID is 0000013162A9
to set below ibutton tag id as authorised ID, we can send sms command:
0000,144,#0000013162A9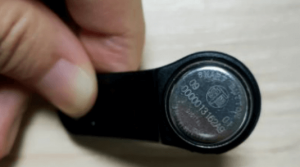 Set Output to Generate Output Events
As we used output1 connect with relay, swiping card event is 53, so we can use below sms command
0000,212,1,53
After doing above steps, the fuel and electricity are cut off in the begin, the fuel and electricity can be restored after the driver swiped authorized Ibutton Tag, and then the vehicle can be ignited within 60s.
If you want programmable gps tracker support RFID/ IBUTTON, or you have any new function demand welcome to contact us freely.