Hello, hi everyone who reads this article. I am Nube and I am from China shenzhen iStartek Techinology Co.,Limited. I am glad to meet you. Now the epidemic is still spreading, I hope you and your family are all well, please take care of yourself. "Quality is our culture".That's our company tagline, and one we've been flattering all along. Shenzhen iStartek Technology company is professional manufacturer for 4G/3G/2G/NB/Lora GPS Tracker for My Car and 4G wireless router since 2015 in China.
iStartek is ISO9000 approved factory, offering 3 years quality warranty, with 1% lower defective rate and rich government project experience, such as NBTC, LTFRB, AIS140, etc.
Today I'm here to introduce you to our best selling GPS tracker.
Tthe Frist one , VT200 series.
The VT200 series has 2G devices, as well as 4G compatible 2G and 4G compatible 3G+2G devices.
Our 4G GPS Tracker VT200L is recommended with the following features:
VT200-L 4G internal antenna GPS tracker has:
1.Support 4G/3G/2G network
2.GPS +GLONASS(Optional) +BD2
3.3IN + 2OUT+1AD+1RS232+1- Wire
4.IP65 Waterproof, support FOTA
5.9-100V Power Supply
6.Support Two-way Audio (Optional)
7.Remote cut-off (petrol/power)
8.Support RFID and OBD II Reader
9.Temperature/Fuel Monitoring
10.Driver Behavior Monitoring
11.Maximum 4IN or 2AD configurable
Optional accessories support IButton, RFID Card, Temperature sensor, Ultrasonic Fuel Sensor, Microphone. ect.
IButton and RFID can be used for driver identification.
There are two types of oil quantity sensors: ultrasonic oil quantity sensor/capacitive oil quantity sensor; it can be used to monitor the oil quantity, and can set the oil stealing alarm to find the oil stealing event.
Temperature sensor, suitable for refrigerated trucks, mobile refrigerators, etc., can detect problems in the refrigerator in time. The standard version of VT200 series supports connecting up to 8 temperature sensors at the same time, and more numbers can be realized through customized software.
The relay can be used to remotely cut off the oil and power, and can also be used to control the door switch. For more details, please contact us.
The function of the microphone can realize monitoring, and when used with the Speaker, it can realize two-way conversation with the driver.
SOS button, when the center number is set, the driver presses the SOS button when in danger, the device will automatically call the center number and send a positioning message.
Would you like to take a GPS Tracker for My Car sample to test?
We offer 3 years quality warranty, with? 2days fast delivery?and?2 hours fast technical response, CE/ROHS approved.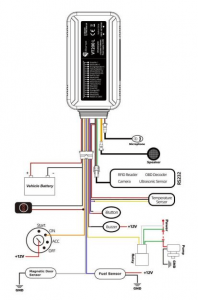 4G equipment needs to match the appropriate version according to the local operator's network frequency band. If there is a local 2G network, we also have a 2G version available.
If you want to know more about iStartek GPS Tracker for My Car products, you can check it on our official website: https://www.istartek.com/, Or send an email to: sales12@istartek.com. My Whatsapp: 0086-18680372944. Thank you for watching. Grateful.