Some thieves will go to great lengths to steal your pride and joy, but what you have is they don't know how far you'll go to protect it. Hidden GPS Tracker Motorcycle GPS tracking devices are the last line of defense against thieves, because by the time you need to use them, your bike is usually gone. Once someone starts stealing your motorcycle, most of these devices will alert you that the perpetrator doesn't know. The wonderful thing about these trackers is that not only can they help you recover your motorcycle, but you will often catch the thief who tries to take it.
For GPS trackers for two-wheeled motor vehicles, there is the option of installing or separate trackers. Built-in battery tracker with power connector. The red and black lines are easily connected to motorcycles. It is important to connect properly so that the device can be powered
correctly. When placed, the GPS tracker sends a real-time location. You can view location or movement in real time on an Internet page or application.
For motorcycles, it's important to use a waterproof GPS tracking system. Select models with at least IP65 encoding. This means the device is waterproof and dustproof. Beware of cheap GPS trackers: these aren't always waterproof. Cheap GPS trackers that come into contact with water can cause damage to the device, which can cause the tracker to malfunction.
iStartek VT100-L is a GPS tracker for motorcycles.It has many features: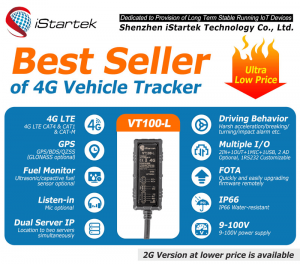 IP66 Waterproof
Real-time tracking
Track by time interval
Track by distance  
SMS Alarm
SOS Alarm
External power disconnection alarm  
Low battery alarm  
Support dual servers
Geo-fence alarm
Speeding alarm
GPS signal loss alarm
Harsh acceleration alarm
Harsh deceleration alarm
Harsh turning alarm
VT100-L Hidden GPS Tracker is a 4G based vehicle GPS Tracker with built-in high-precision, GPS+BDS dual-mode positioning module; It integrates functions of driving behavior monitoring, remote fuel cut, low power alarm, external power disconnect alarm, various abnormal alarms, electronic geo-fences etc., and uploads information to the platform to create comprehensive supervision and security for vehicle driving. By its ultra mini size, it is easier to install and hide, which is suitable for the automotive risk control industry, vehicle supervision, anti-theft and shared travel industries.
VT100-L Hidden GPS Tracker has a built-in 16Mb Flash memory. When the device enters a place without network, it will automatically save the historical positioning data. When the network returns to normal, it will automatically resend the historical positioning data to the tracking platform. Please feel free to contact me if you are interested it. Contact information: Ruby Whatsapp/Skype/Wechat: +86 18620363484