Who is iStartek? Shenzhen iStartek Technology Co., Ltd. is a high-tech enterprise engaged in research, development, manufacturing, and sale of IoT products, such as 4G Car GPS Tracker and 4G Wireless router.
Since its inception in 2015, iStartek has established all-around strategic partnerships with a number of internationally renowned IT enterprises, such as Qualcomm, MTK and CCMIC, etc, with the capability of rapidly mastering and accessing global leading-edge technological resources to make technological breakthroughs and facilitate product innovations.
Currently, iStartek product mix covers IoT, IoH, and IoV, including 2G/3G/4G/NB/LORA GPS positioning equipment and smart devices, 5G/4G routers (MiFi, industrial routing, CPE), 5G/4G modules, etc., which are widely adopted in areas such as industrial sector, household sector, vehicle, agriculture, monitoring, and positioning and data transportation. The provision of services and products integrating both hardware and software platforms, as well as customized specialty services is one of our major competitive edges.
What are the main 3G and 4G iStartek GPS Trackers?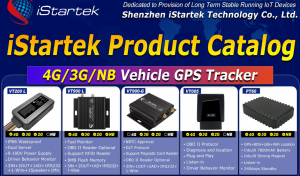 Where can I apply iStartek GPS Trackers?
iStartek GPS Trackers can be used for the following:
Fleet management.

Public transportation management.

School bus management.

Taxi operation management.

Vehicle insurance company management.

Leasing management and private car anti-theft, etc.
Main key features of VT200L 4G GPS Tracker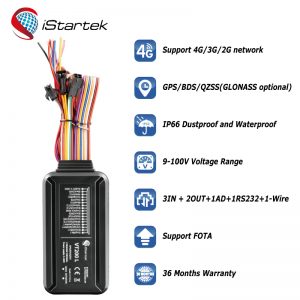 iStartek 4g GPS Tracker can support 4G/3G/2G network, which means we can put 2g sim card, 3g sim card, or 4g sim card on it, to make it work.

iStartek 4g GPS Tracker can support GPS/BDS/GLONASS/QZSS multiple positioning systems for high-precision real-time positioning.

iStartek 4g GPS Tracker can support IP66 Water-resistant ensures stable operation in a tough environment.

iStartek 4g GPS Tracker can support 9-100V wide operating voltage applied to all types of vehicles.

5.iStartek 4g GPS Tracker can support 128 Mb Flash, so it can store buffer when the signal is lost to keep a complete tracking route.

iStartek 4g Car GPS Tracker can support two-way Audio, with MIC and loudspeaker for two-way communication.

iStartek 4g car vehicle tracker support Camera to take photos and upload to server, support automatic photo upload triggered by events.

8. iStartek 4g GPS Tracker can support Dual Server IP, Support uploading location data to two servers at the same time.

iStartek 4g GPS Trackercan support  RS232, RS232 port can be equipped with Camera, RFID, magnetic card reader or OBD II reader.

10.  iStartek 4g GPS Tracker can support 1-Wire, 1-Wire can be equipped with up to 8 temperature sensors or buttons
iStartek 4g GPS Tracker can fuel steal alarm, Support ultrasonic fuel sensor or capacitive fuel sensor with fuel steal alarm.

iStartek 4g GPS Tracker can support driving Behavior, Driving behavior monitoring by harsh acceleration alarm, breaking alarm, harsh turning alarm, speeding alarm, drunk driving alarm, fatigue alarm, etc.

iStartek 4g GPS Tracker can support Multiple I/O, 3IN + 2OUT+1AD+1RS232+1-Wire+1Speaker+1Microphone, 4IN/2AD configurable.

iStartek 4g GPS Tracker can support FOTA, Quickly and easily upgrading firmware remotely.
iStartek offers
iStartek 4G Car GPS Tracker offers 1-3 years quality warranty, with 2-3 days fast delivery and 2 hours fast technical response, CE/ROHS approved. OEM and ODM projects are their specialty, iStartek R&D team got rich ODM experience for Government projects, such as NBTC, AIS140, LTFRB, etc. For more details visit www.iStartek.com.