The best car trackers GPS report the vehicle's location in real time and transmit driving data to the user's mobile phone. They can also report factors such as average speed and health conditions, and provide roadside assistance in emergency situations.
Trackers come in many shapes, sizes and prices, many of which require a monthly subscription to their services. After our testing and market research, we recommend the best car trackers GPS to narrow down the top choices in the market.
A monthly or annual subscription fee ensures continuous coverage and real-time tracking via a dedicated app; You can also set up email or text notifications if the vehicle leaves its dedicated area or presses the SOS button. Some devices even let you monitor live audio for more peace of mind in an emergency. Battery life is an important consideration when buying an in-car GPS tracker. Most devices have integrated rechargeable batteries that can last for weeks. Others have removable rechargeable batteries, allowing you to have several on standby for quick replacement when the device needs power.
The VT200-L is iStartek's most comprehensive 4G multi-function GPS vehicle tracker. With built-in high-precision GPS positioning module reports the vehicle location and vehicle status to the vehicle tracking service platform through the 4G network for real-time vehicle monitoring, anti-theft, and dispatch management. It can be applied to fleet management, public transportation management, school bus management, taxi operation management, vehicle insurance company management, leasing management and private car anti-theft, etc.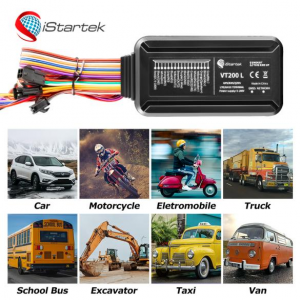 VT200-L car trackers has a built-in 128Mb Flash memory. When the device enters blind area, it will automatically save historical positioning data. When the network recover, it will automatically resend historical positioning data to the service platform.
VT200-L contains an RS232 port, which can be connected to RFID to perform identity recognition and vehicle control for vehicle drivers; It can also be connected to OBD reader to read car ECU data and other RS232 peripherals to achieve corresponding functions.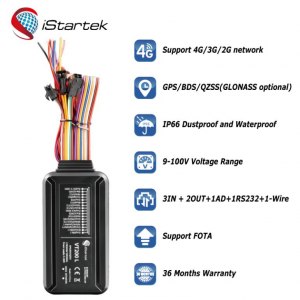 Supported Alarms:
External power failure alarm

SMS alarm

SOS alarm

Low battery alarm

Engine and door status change alarm

Geo-fence alarm

Speeding alarm

GPS signal loss alarm

Harsh acceleration alarm

Harsh deceleration alarm

Harsh turning alarm

Impact alarm

Vibration (towing) alarm

Idling alarm

Fatigue driving alarm

Fuel theft alarm

Low fuel alarm

High and low temperature alarm
Optional accessories: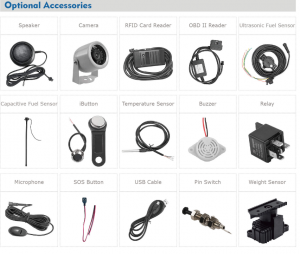 USB Serial Cable(Configuring data, firmware upgrading, collect the log)

Relay (Cut off the engine remotely)

SOS button

Pin Switch (Engine Hood Open/Close detection)

Speaker, Microphone (two-way communication/voice monitoring

RFID, iButton (driver identification)

Buzzer

Ultrasonic/Capacitive fuel sensor (fuel monitoring)

Temperature sensor (temperature monitoring)

OBD reader (Vehicle Diagnosis)

Camera(Take a picture for monitoring the driver behavior)
VT200-L is a very powerful car trackers device, accurate positioning, stable performance, in Indonesia, Brazil and other countries very popular, it is worth your try!