In this day and age, WiFi is everywhere. WiFi is needed where there are people, and WiFi has become an indispensable part of our lives. In this process, the LTE wireless router played a very important role, allowing us to enjoy WiFi. We have 2 types 4g router, an outdoor 4g router, and an indoor 4g RJ45 router. In this article, we will introduce to you our best-selling product MC118 outdoor 4g LTE sim router.
Firstly let's show you what is MC118 LTE sim card slot wireless router looks like?
MC118 LTE wireless router has 4 High Gain Antennas, include dual 3G/4G antennas+duel 2.4G antennas, which can have strong signal receiving. MC118 LTE wireless router has 4 Lan Ports, one of the LAN port can be used as a WAN Port, 1 sim card slot, 1 reset button, 1 USB Port for charging. Also, MC118 LTE wireless router has strong Heat Dissipation, there are many holes in its case, which can help it heat dissipation easily.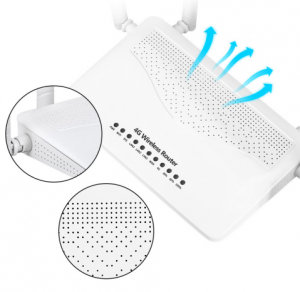 Secondly, let's see what are the supported features of the MC118 wireless router with sim card slot.
MC118 sim card wireless router can transfer 3G/4G Signal To Lan
After we insert a 3g/4g sim card in the MC118 router, it can transfer 3g/4g signal to Lan, so we can connect our computer with 4 g wireless router via network Cable, after that we can watch tv, playing games via our PC.
MC118 LTE router can transfer 3G/4G Signal to WIFI Signal 
After we insert a 3g/4g sim card in the MC118 LTE WiFi router, it can transfer 3g/4g signal to wifi signal, so we can use our phones and computers to connect wifi, it supports 32Max Terminal Customers, which is enough for home or office wifi sharing,
MC118 router support Watch Dog Design
Support anticrash functions. Protect equipment work stable and reliable
MC118 router compatible With Power Bank Charging
Equipped with a micro USB interface, which does not need a voltage convert line and can be charged directly with a power bank
MC118 4g LTE wireless router has Industry Grade PCB Board
Used brand chipset and PCB design, with overcurrent protection more stable and safe
MC118 4g router support SMS service.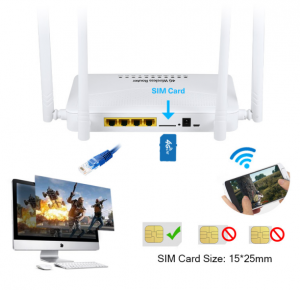 If the LTE WiFi router is equipped with a 3G/4G sim card that can send and receive SMS messages, then we can send a text message to the 4 g wireless router through the set mobile phone number to enable the remote control router to boot, shut down and restart, and verify whether the router is online. The interface is as follows: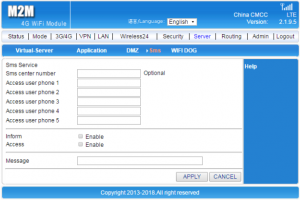 There are many features we don't list in the above list, if you want to know more about our LTE wireless router, welcome to contact us now. Who we are? We are a professional manufacturer in for IoT devices in China since 2009, we have flexible OEM and ODM policy, welcome to contact with us.