The DS18B20 digital thermometer provides 9- to 12-digit Celsius temperature sensor measurement and alarm functionality with non-volatile user-programmable upper and lower trigger points. The DS18B20 communicates over the 1-Wire bus which by definition requires only one data line (and ground) for communication with the central microprocessor. It has an operating temperature range of -55°C to +125°C and is accurate to ±0.5°C over the range of -10°C to +85°C. Additionally, the DS18B20 can draw power directly from the data lines ("parasitic power"), eliminating the need for an external power supply.

Wiring between VT900/VT600 and sensor
When the device is connected to a temperature tool, a customized hardware version and software version are required.
It is necessary to customize the AD line to be changed to the 1-wire communication bus of the temperature tool sensor, and the input2 line to be changed to the 5V voltage power supply output line of the temperature sensor. The wiring diagram is as follows:
After the connection is completed, the device will send GPRS data after it goes online. Take VT900 as an example:
$$ !€ ' U030851.000,A,2240.7265,N,11402.7720,E,0.18,223,190620,,*08|0.9|35|0000|0000,0000,0000,024D|
01CC0000249F000010C5|18|00000782|09|28.5.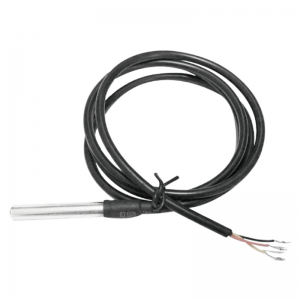 The temperature sensor value is a decimal ASCII code, accurate to one decimal place. If it is a negative temperature, there is a negative sign in front, so the GPRS temperature above is 28.5℃.
Hello, this is Jack from iStartek, We are quality factory for 2G/3G/4G/NB and Lora gps tracker and 4G/5G wireless router since 2015.
Today, I would like to introduce you how to connect temperature tool to our VT600 gps tracker.
Before starting please make sure you are using Temp version VT600 hardware and Temp version firmware.
If you are not sure about it, welcome to check with iStartek Team.
For temp version VT600, INPUT 2 is 1-wire cable, AD is the power supply for temp sensor.
Firstly, Prepare the following tools:
laptop , usb cable, temperature tool, VT600 device with power cable and antennas , 12v DC power supply , Micro simcard
Let's insert simcard and connect to antennas
Secondly, the wire connection:
connect yellow wire of temperature tool sensor to Input 2 white wire of VT600
connect red wire of temperature tool sensor to AD blue wire of VT600
connect black wire of temperature tool to GND black wire of VT600
connect VT600 black wire and red wire to 12V DC power supply
After finishing the preparation, we start to verify the data from temperature tool.
Run the software "Comm Tool", choose correct port , baud rate and format.
Then click "Open", we can check the location data from VT600 gps tracker.
If you can not see location data from comm tool, it's because your VT600 not configurated,
please enable GPRS and set time interval by SMS Commands or Parameter Editor.
This is data of temperature tool, click "Close" to suspend data transmission.
We can find the tempeture value : 26.8
That's all for today. Thank you for listenning. www.istartek.com, thank you for watching temperature sensor, see you around. http://www.istartek.com/, Contact Information: Call us:+86-755-85241929. Mail:[email protected]. Phone:+86-13302926991.