When talked about 4g wifi USB dongle, you may be surprised what is that? Calm down, this article we will explain to you what is 4g wifi dongle and whats features it has.
USB 4G dongle, also called a mini wireless router, is a mini portable USB dongle that combines 4G technology and WiFi technology. It is a wifi signal transmitter. If the computer and other devices have a wireless network card, they can receive the signal from the portable 4g USB dongle.
The 4g wifi USB dongle mainly expands the wired network to a wireless network in an environment where there is no wireless network and is used for wireless Internet access by devices with wifi function. Connect the wired network to the wifi dongle USB. Simply the 4g USB dongle is a mini version of the wireless router.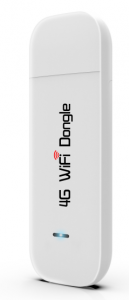 What are the features of the 4g wifi dongle?
WiFi dongle supports 2G 3G 4G frequency band.
Because the 3G 4G frequency bands are different in different countries around the world, please tell us the 3G 4G frequency bands that you need to support when placing an order, then we will send the corresponding version USB dongle to you.
4g wifi dongle can share wifi when it's turn on.
4g wifi dongle can get power supply via USB of the computer, wireless plug, car port, power bank, etc. Support up to 8 WiFi users and one USB user to access at the same time, easy to share WiFi.
Brand-new design, slim body, light and easy to carry, enjoy 4G anytime, anywhere.

Compatible with IEEE802.11b/g/n standard protocol, the highest wireless speed is 150Mbps.

The friendly user interface, support free software upgrade.
The above is some introduction to our USB wifi dongle, if you are interested, please contact us to buy samples for testing, we will give you the best price. Who we are? iStartek is a manufacturer dedicated to IoT products since 2009, we have a wide range of products, In addition to 4g wifi dongle, we also have home use routers, portable routers, and industrial routers, and we have flexible OEM ODM services, if you need any new features or want to put your logo on 4g wifi USB dongle case, welcome to contact us.